Real author:
Eva Ruft
A simple indicator that calculates only the volatility of a financial asset. Volatility is calculated in points based on the maximum and minimum prices.
The volatility is calculated using a simple MA as the sum of the maximum prices for the averaging period minus the sum of minimal prices for the same period. The resulting value is calculated in points.
Indicator input parameters:


input  ENUM_MA_METHOD   MAType=MODE_SMA;     
input uint              VolatilityPeriod=5;  
input int               Shift=0;             

input uint              LevelsTotal=20;      
input uint              StartLevel=100;      
input uint              LevelsStep=100;      
input color             LevelsColor=clrBlue; 
This indicator was first implemented in MQL4 and published in Code Base at mql4.com on 08.04.2008.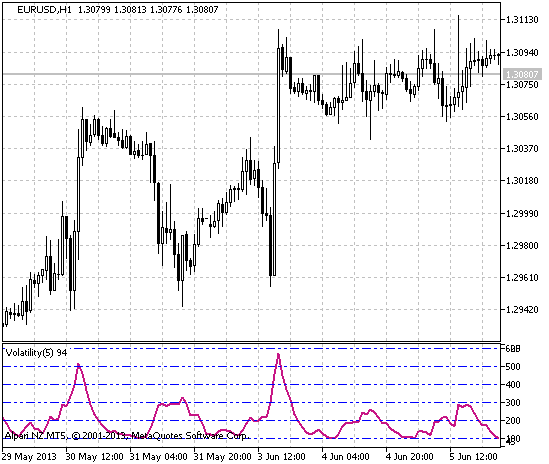 Figure 1. The Volatility2 indicator