The real author:
svm-d
The fast trends indicator drawn on the basis of two XMUV Moving Averages. In fact, as a result two lines of the Momentum indicator drawn on the basis of this Moving Average with SMA and EMA averagings respectively and led to the changes at the range -100 ... +100 are displayed.
Off-scale of at least one of these two momentums on -100 or 100 ranges indicates the presence of a strong trend in the corresponding direction. In this situation, the points of the corresponding color appear. The color of the cloud corresponds to the trend direction.
Place the XMUV.ex5 compiled file to the terminal_data_folder\MQL5\Indicators. This indicator was first implemented in MQL4 and published in Code Base on 09.11.2008.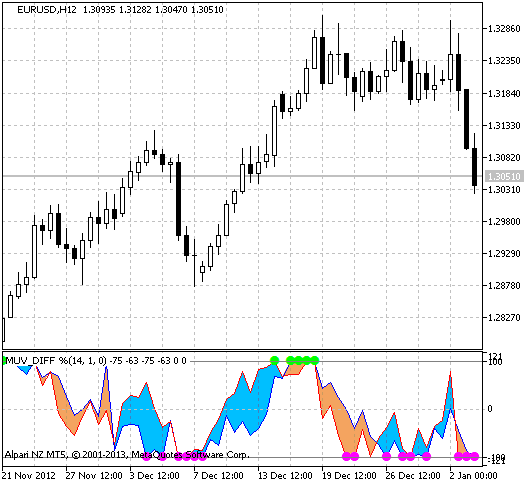 Fig.1 The MUV_DIFF%_Cloud indicator