The real author:
edwinodus
To a large extent, NonLagAMA is just the strongly processed standard Moving Average indicator which has a lot of settings compared to the last indicator and changes the color when changing the trend direction.
Indicator input parameters:



input uint Length0=12; 
input double Deviation=0; 
input uint Filter=0; 
input Smooth_Method MA_Method1=MODE_SMA; 
input uint Length1=12; 
input int Phase1=15; 
input Applied_price_ IPC=PRICE_CLOSE;
input int Shift=0;                        
input int PriceShift=0;                   
This indicator was first implemented in MQL4 and published in Code Base on 19.01.2009.
The indicator uses SmoothAlgorithms.mqh library classes (must be copied to the terminal_data_folder\MQL5\Include). The use of the classes was thoroughly described in the article "Averaging Price Series for Intermediate Calculations Without Using Additional Buffers".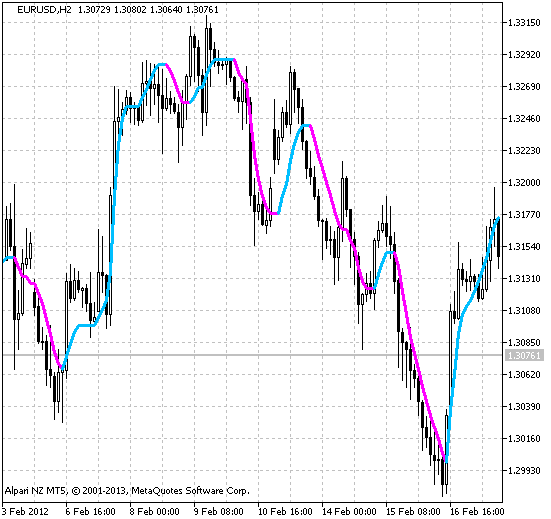 Fig.1 The NonLagAMA indicator