The real author:
Dan Valcu
The popularity of the Heiken Ashi trend technique grows visibly. Its simplicity and force makes it a great instrument for trading any asset at any price range.
At first, this technique has been used as a graphical complement to analysis of usual price charts. Later there were special Heiken Ashi candlesticks. Then there was light HaDelta, based on the difference in the opening and closing prices of the Heiken Ashi candlesticks.
In fact, the HaDelta indicator is a momentum indicator which as the input time series used Heiken Ashi candlesticks.
The indicator uses SmoothAlgorithms.mqh library classes (must be copied to the terminal_data_folder\MQL5\Include). The use of the classes was thoroughly described in the article "Averaging price series for intermediate calculations without using additional buffers".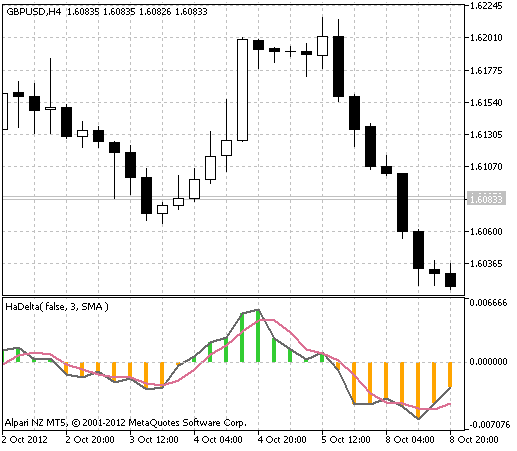 Fig.1 The HaDelta indicator.