The Expert Advisor is rewritten from MQL4, the unknown author, published by Scriptor, link to the source - https://www.mql5.com/en/code/7599.
How it works
Green line - price difference with one of the line of Bollindger Bands®.
Red line - sum of values of the BearsPower and BullsPower indicators multiplied by -1.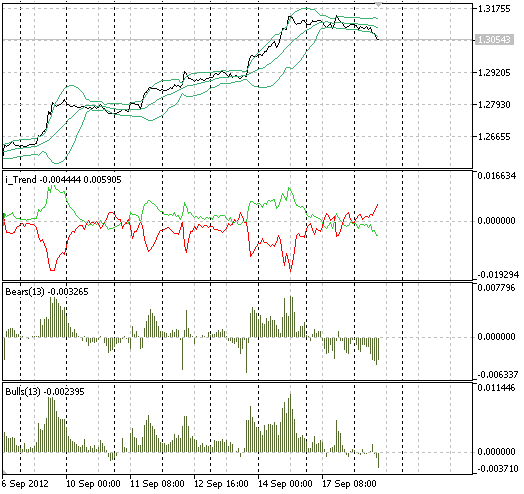 The i_Trend indicator (the third window below) and indicators on the basis of which it is built: Bollinger bands, BearsPower and BullsPower
Parameters
Price - Price type used to calculate the difference of price and Bollinger Bands.
BBPeriod - Period of Bollinger Bands.
BBShift - Shift of Bollinger Bands.
BBDeviation - Deviation of Bollinger Bands.
BBPrice - Price of Bollinger Bands.
BBLine - Used line of Bollinger Bands.
BullsBearsPeriod - Period of Bulls Bears Power.