W1 price was on the local uptrend as a bear market rally within the primary bearish market condition: the price came to the Ichimoku cloud from below andSenkou Span line of Ichimoku indicator was tested from inside the cloud to above for the bullish reversal to be started. But the price was finally bounced from Senkou Span back to the Ichimoku cloud for the ranging bearish market condition. For now, the price is located near and below Senkou Span and 10,803 resistance level for the bullish reversal to be started or for the ranging bearish trend to be continuing.

Chinkou Span line is located above the price indicating the ranging condition, and Absolute Strength indicator is estimating the trend to be ranging as well in the future. By the way, Tenkan-sen line is above Kijun-sen line for the possible bullish reversal in the near future for example.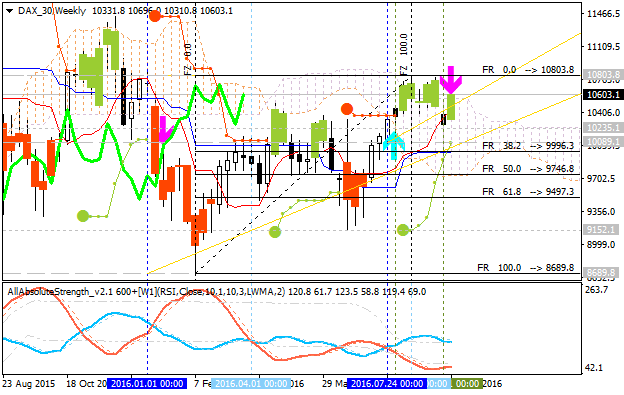 If the price breaks 10,803 resistance level on close weekly bar to above so the reversal of the price movement from the ranging bearish to the primary bullish market condition will be started.

If weekly price breaks 9,746 support level on close bar to below so the bearish trend will be resumed with 9,497 nearest bearish weekly target.

If not so the price will be on bearish ranging within the levels inside Ichimoku cloud.

| Resistance | Support |
| --- | --- |
| 10,803 | 9,746 |
| N/A | 9,497 |
Trend:

W1 - ranging for direction of the trend to be started