AUD/USD ended last week almost unchanged, closing at 0.7366. This week's highlight is Unemployment Change. Here is an outlook on the major market-movers and an updated technical analysis for AUD/USD.
Australian Employment Change posted strong gains and beat expectations. In the US, the Fed held rates and gave no hints about a rate hike. Retail Sales were within expectations, while inflation levels remain low, as underscored by last week's CPI reports.
Updates:
AUD/USD graph with support and resistance lines on it. Click to enlarge: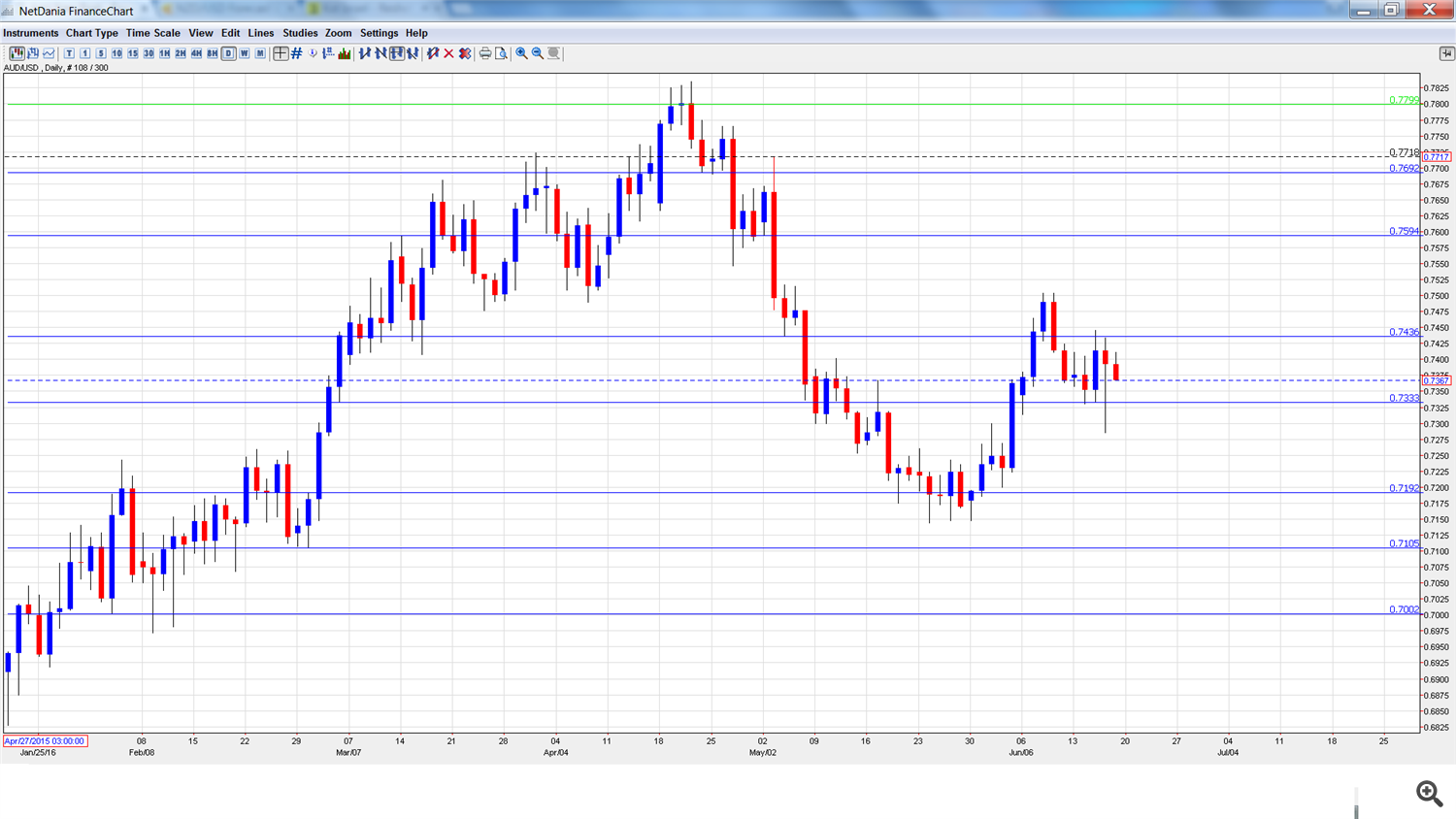 CB Leading Index: Monday, 14:30. The indicator is based on 7 economic indicators, but is a minor event as most of the data has been previously released. In March, the indicator posted a small gain of 0.1%,
RBA Assistant Governor Guy Debelle Speaks: Monday, 23:25. Debelle will speak at an event in Sydney. The markets will be looking for hints regarding the RBA's future monetary policy.
Monetary Policy Meeting Minutes: Tuesday, 1:30. This is the key event of the week. The minutes provide details of the policy meeting earlier in June, in which the RBA held rates at 1.75%.
HPI: Tuesday, 1:30. This house price index is released each quarter, magnifying the impact of each reading. The index posted a small gain of 0.2% in the fourth quarter, within expectations. The markets are expecting a strong gain of 0.8% in Q1.
MI Leading Index: Wednesday, 00:30. The index posted a small gain of 0.2% in April. This marked its first gain in 2016. Will we see another positive reading in the May report?
RBA Assistant Governor Guy Debelle Speaks: Monday, 8:15. Debelle will be speaking at an event in Sydney. A speech which is more hawkish than expected is bullish for the Australian dollar.
* All times are GMT
AUD/USD Technical Analysis
AUD/USD opened the week at 0.7371 and touched a high of 0.7446, testing resistance at 0.7438. The pair then changed directions and dropped to a low of 0.7285. AUD/USD then rebounded and closed the week unchanged, at 0.7367.
Technical lines from top to bottom:
0.7798 was an important resistance line for much of June 2015.
0.7692 is protecting the 0.77 line.
0.7597 is the next line of resistance.
0.7438 was tested for a second straight week as AUD/USD posted strong gains before retracting.
0.7334 was a cap in December 2015.
0.7192 is providing strong support.
0.7105 has been a cushion since the end of February.
0.7002 is providing support just above the psychologically important level of 0.7000. It is the final support line for now.
I am neutral on AUD/USD
The Fed stayed on the sidelines last week, and may stay out of the spotlight until September. The upcoming Brexit referendum could have strong ramifications on the currency matters, even on the Aussie.