As part of his speech on Wednesday, RBA Governor Philip Lowe said that "the central bank needs good reasons to change its policy". Earlier this month, when the RBA kept the interest rate at 1.5%, Philip Lowe said that "it is likely that inflation will remain weak, reflecting the slow growth in labor costs and high competition in the retail sector". In his opinion, the RBA will not follow other central banks of the world, which are prone to tightening policies.
Economists predict that official inflation data, expected later in April, will show a 0.4% increase in consumer prices in the first quarter compared to the previous quarter and 1.8% compared with the first quarter of 2017, when this rate of core inflation will be slightly higher.
Taking into account the attention that the RBA assigns to achieving the target inflation range (2% -3%), an increase in interest rates is not expected in the coming months.
This is a negative factor for the Australian dollar. Nevertheless, on Friday the Australian dollar is growing, including in cross-pairs and against the US dollar.
Its strengthening is supported by the growth of world commodity prices against the background of the weakening of the US dollar, as well as positive data on China's foreign trade balance, which is Australia's closest and largest trading partner.
Last Thursday, oil prices reached new three-year highs due to increased geopolitical risks in the Middle East and a decrease in oil production in OPEC and Russia.
WTI futures for NYMEX rose 25 cents, or 0.4%, to $ 67.07 per barrel. Futures for aluminum in the first half of the European session traded with an increase of 1.75%, at 2323.50 dollars per ton. Over the last week, aluminum prices have added 13.1%. Copper futures rose 0.54% to 6859 dollars per ton.
Australia is the world's largest supplier of primary commodities; primarily iron ore, liquefied gas, coal, which accounts for 10% of the country's total foreign trade, oil and oil products, and gold.
China accounts for 25% of Australia's total exports and 13% of imports to Australia.
According to official data released on Friday, the surplus of foreign trade in March was 326.1 billion yuan, and imports to China increased by 14.4%, including through the importation of raw materials into the country. Australia as a supplier of raw materials to China is at the forefront.
Despite the fact that the RBA intends to maintain a soft monetary policy, as the RBA said on Wednesday Philip Lowe, the Australian dollar is growing.
Even though the different focus of monetary policy in the US and Australia is the main most important long-term factor in favor of weakening AUD / USD, today AUD / USD is growing. Risks associated with interruptions in the supply of primary commodities to the world market are coming to the fore.
)An advanced fundamental analysis is available on the Tifia Forex Broker website at tifia.com/analytics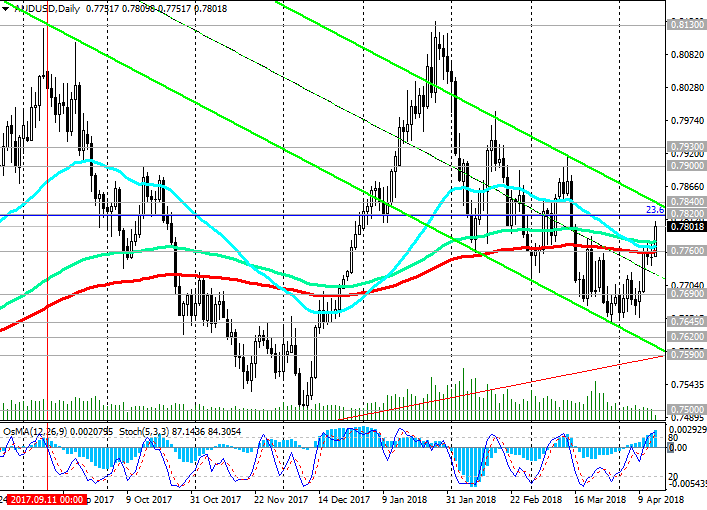 Support levels: 0.7760, 0.7690, 0.7645, 0.7620, 0.7590, 0.7500, 0.7330
Resistance levels: 0.7820, 0.7840, 0.7900, 0.7930, 0.8000, 0.8100, 0.8130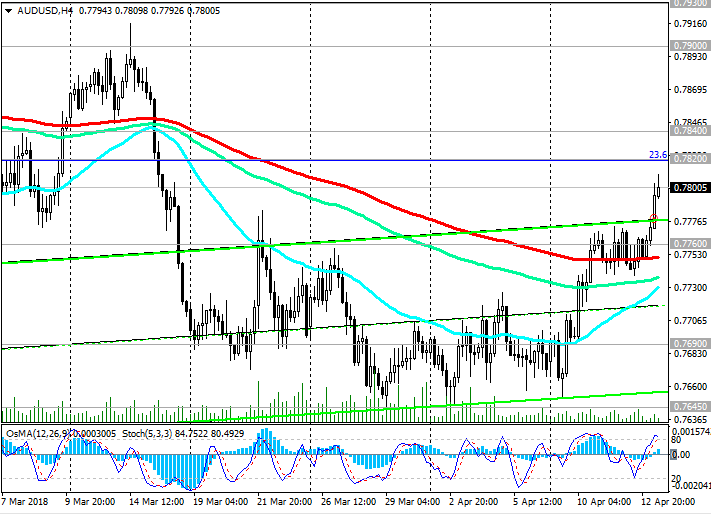 Trading Scenarios
Sell ​​Stop 0.7750. Stop-Loss 0.7810. Take-Profit 0.7700, 0.7690, 0.7645, 0.7620, 0.7590, 0.7500, 0.7330
Buy Stop 0.7830. Stop-Loss 0.7750. Take-Profit 0.7840, 0.7900, 0.7950, 0.8000
*) For up-to-date and detailed analytics and news on the forex market visit Tifia Forex Broker website tifia.com