As expected, the Reserve Bank of Australia left interest rates unchanged on Tuesday at 1.5%. Interest rates remain unchanged as a result of 18 meetings in a row. In the comments RBA adhered to the usual rhetoric. "Despite the improvement in the labor market, wage growth rates remain low, which is likely to continue for some time", said RBA Governor Philip Lowe. "Inflation is likely to remain weak, reflecting the slow growth in labor costs and high competition in the retail sector", Lowe said, adding that the RBA will not follow other central banks in the world that are prone to tightening policies. The country is expecting a weak wage growth, as well as low inflation, which means interest rates can remain unchanged for most of 2019, according to many economists.
The Australian dollar rose against the US dollar after the publication of the RBA's decision on rates. Nevertheless, the negative trend of AUD / USD persists.
The tension associated with the trade relations between China and the US will continue to put pressure on commodity currencies, including the Australian dollar. The threat of further protectionist measures by the US against other countries (especially China) is a risk to economic growth in the world. If tensions in foreign trade increase, it can slow global economic growth and lower demand and commodity prices, which, in turn, will negatively affect the quotations of commodity currencies.
The key rate of the RBA remains at a record low of 1.5% for the RBA since mid-2016, and economists believe that the central bank will not change it after 2019. The reasons for changing the current monetary policy in the RBA are not seen, and this is the main negative factor for the Australian dollar, while other major world banks can start curtailing softening programs and raise interest rates.
The different focus of monetary policy in the US and Australia will be the main most important long-term factor in favor of weakening the AUD / USD.
For today, important economic news is no longer planned. The attention of investors will gradually switch to the publication on Friday of data on the US labor market for March. Strong data are expected. If there are no unexpected events in the world until Friday, then we should expect the strengthening of the US dollar.
*)An advanced fundamental analysis is available on the Tifia Forex Broker website at tifia.com/analytics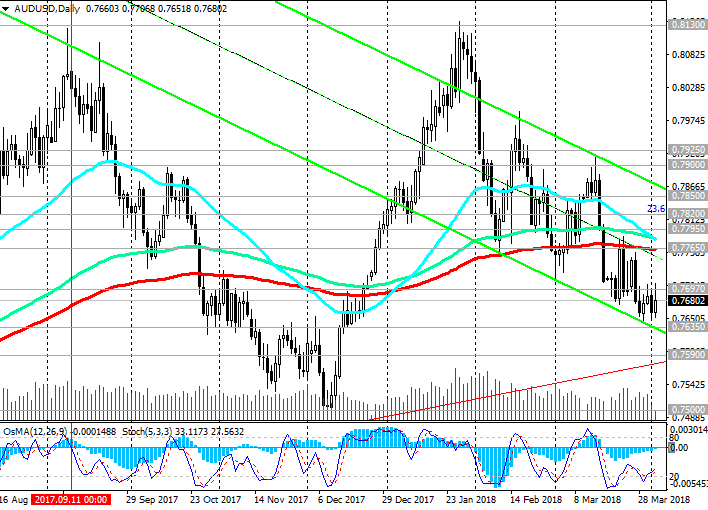 Support levels: 0.7635, 0.7620, 0.7590, 0.7500, 0.7330
Resistance levels: 0.7697, 0.7765, 0.7795, 0.7820, 0.7850, 0.7900, 0.7950, 0.8000, 0.8100, 0.8130, 0.8200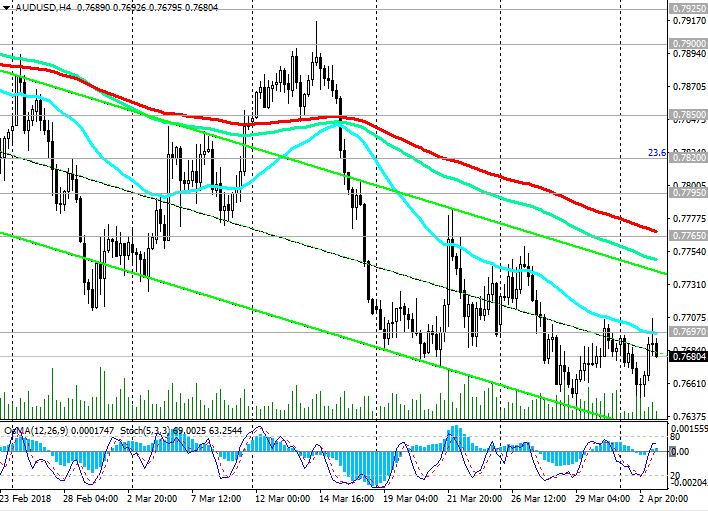 Trading Scenarios
Sell ​​in the market. Stop-Loss 0.7715. Take-Profit 0.7635, 0.7620, 0.7590, 0.7500
Buy Stop 0.7715. Stop-Loss 0.7670. Take-Profit 0.7765, 0.7795, 0.7820, 0.7850, 0.7900, 0.7950, 0.8000
*) For up-to-date and detailed analytics and news on the forex market visit Tifia Forex Broker website tifia.com