The European Commission has reported that industrial companies, service groups and retailers across the euro area are all more confident this month, pushing its measure of economic sentiment to the highest since 2011.
Economic sentiment climbed in Italy (+3.4), Germany (+1.9), the Netherlands (+1.2) and France (+0.9), offsetting a small decline in Spain (-0.9).
The easing of the Greek debt crisis this summer may have cheered eurozone companies.
Consumers, though, are less upbeat, given the storm clouds gathering in the global economy.
The EC says:
"While consumers were more upbeat on questions relating to their personal finances (expected financial situation, future savings), their views on macro-economic developments (future general economic situation, future unemployment) clouded over."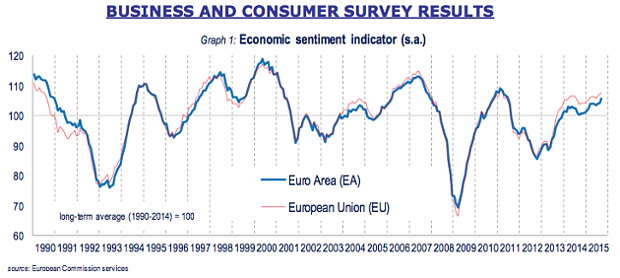 The euro shrugged off the upbeat data and held lower against the greenback with EUR/USD last seen at 1.1195, down 0.42%.