Übersicht

Bewertungen

Diskussion
Fibonacci Retracements Pro
The Fibonacci Retracements Pro is a powerful yet easy to use indicator. It automatically plots all the important Fibonacci retracement and extension levels for you. FRP is dynamic powerful and seamlessly adjusts to whatever timeframe you are analyzing. Fibonacci Retracement Pro is optimized for ALL timeframes and ALL Currency pairs, Indices, Commodities, and Cryptocurrency pairs. Trade with improved confidence and maximize your success rate.
Benefits of the Fibonacci Retracements Pro Indicator
§ FMPL works with any asset
It can be used on currencies indices commodities, stocks, and cryptocurrencies with any broker using the MT4 platform.
§ Dynamic and Powerful
Whether price action is is an uptrend, downtrend or trading sideways, FRP is consistent in always proving how dynamic and powerful it is by seamlessly adjusting to whatever timeframe you are analyzing.
§ Potential to maximize profits
Gain confidence in understanding the direction of the trend and key Fibonacci retracement levels, and trade like a pro.
§ Does not affect the functioning of the terminal
FRP indicator has a very lightweight and optimized codebase so it avoids overloading the terminal.
§ Optimized for all chart timeframes
FRP is fully optimized for all chart timeframes.
§ Suitable for all Windows-powered PCs
The indicator can be installed on any PC.
§ User friendly and suitable for beginners and experts
FRP indicator is a simple drag and drop indicator, and if you understand the basic theory of Fibonacci levels and trading strategies, this tool becomes that much more powerful.
How to use the Fibonacci Retracements Pro indicator
Buy/Rent and install the indicator in your MT4 terminal.

Select, drag and drop the indicator onto any chart.
That's it! Let FRP show you its power and automatically draw your key Fibonacci levels; the rest is up to you to use your trading knowledge and experience to maximize your success rate.
Käufer dieses Produkts erwarben auch
Weitere Produkte dieses Autors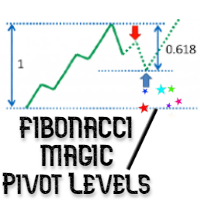 Fibonacci Magic Pivot Levels
Tumelo Trevor Thudinyane
The Fibonacci Magic Pivot Levels is a powerful yet easy to use indicator . It continuously monitor s intra-day price action and uses complex algorithms to calculate and detect key support, resistance and pivot levels, using the D1 timeframe as a filter. The   Fibonacci Magic Pivot Levels is optimized for H4, H1, M30, M15, M5 & M1 timeframes and can be used on ALL Currencies, Indices, Commodities, and Cryptocurrency pairs . Trade with improved confidence and maximize your success rate. Benefits o
33 USD