Interesting script?
So post a
link
to it -
let others appraise it

Kanal_Ant - indicator for MetaTrader 4
Views:

20502

Rating:

Published:

2008.07.28 07:44

Updated:

2016.11.22 07:32
You are missing trading opportunities:

Free trading apps
Free Forex VPS for 24 hours
Over 8,000 signals for copying
Economic news for exploring financial markets

If you do not have an account, please

register
An indicator of MA channel. It allows you to analyze price movements using the methods of A_Vlad.
The essence of these methods is that the balance line, LB, works as "price attraction", if there are no external impacts, whereas the distant lines (38%, 62%, 100%) represent the support/resistance lines. The settings allow you to change the MA period and the channel width depending on the timeframe used and on the symbol volatility. By default, it is developed for H1. You can use this indicator as a TS to work by the method of "parry" from the channel borders.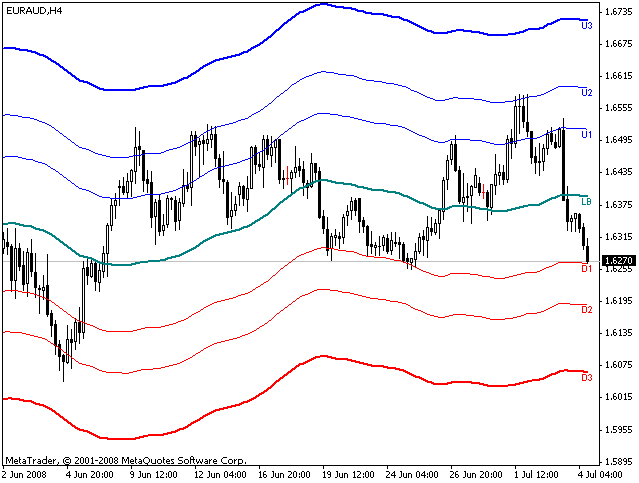 Translated from Russian by MetaQuotes Ltd.
Original code: https://www.mql5.com/ru/code/8248

MA Channels
It displays Fibo levels of the price channel created on the moving avrage.

OzFx Signals v1.7
The indicator OzFx Signals v1.7.

Corelation
The indicator is intended for searching the correlations between different symbols. It allows to overlay one chart with another to visually detect how do different symbols correlate between each other.

ZZ_Ensign_Fibo
A ZigZag alike the one used in Ensign with little differences (v1). With displaying of statical and dynamical fibs and Andrews' pitchfork.