The trailing module is based on two stop levels: a short and a long one. The long stop level is similar to a fixed trailing stop. A short stop level is activated when the WPR indicator leaves the overbought/oversold areas. The width of the overbought/oversold areas is defined by the module settings.
Module settings:
Timeframe of WPR - the timeframe of the module (may differ from the EA timeframe).

Period of WPR - WPR calculation period. It can not be less than 3!

Stop levels of WPR-trailing (-50±StpLvl) - setting the overbought / oversold levels relative to level -50. The value should be within the range of (1;49)

Short stop - short Stop Loss in points.

Long stop - long Stop Loss in points
Locate the file TrailingWPRwStops.mqh in the terminal_data_directory\MQL5\Include\Expert\Trailing or any Trailing subdirectory (not to trash in the source folder), otherwise it will not be available to the Exert Advisor Wizard.
The figure shows an example of the module when opening a short position on EURUSD. When the WPR indicator leaves the oversold area (set by the Stop levels of WPR-trailing (-50±StpLvl) parameter), a short Stop Loss (a red line on the candlestick chart) is activated, which closes the position.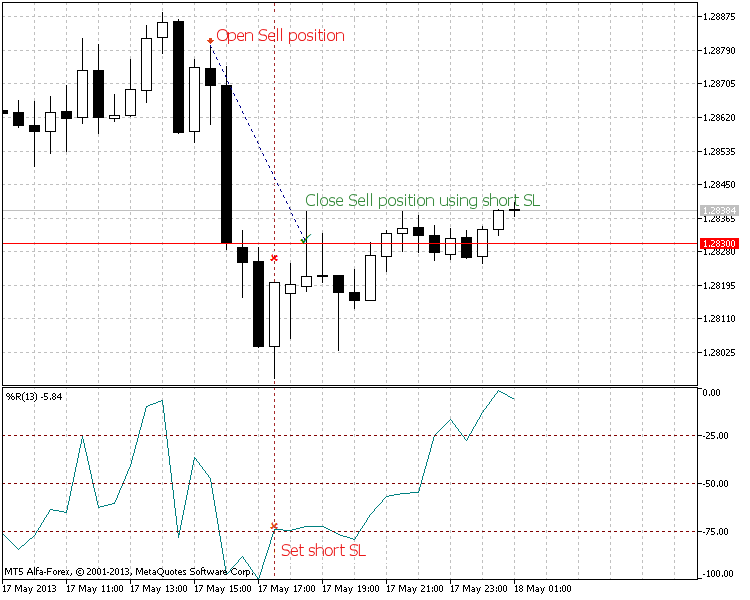 Fig. 1. An example of the module