Interesting script?
So post a
link
to it -
let others appraise it

Candles, arbitrary seconds - indicator for MetaTrader 5
Published by:

Views:

8970

Rating:

votes: 32

Published:

2016.10.03 17:17

Updated:

2017.01.12 08:24
You are missing trading opportunities:

Free trading apps
Free Forex VPS for 24 hours
Over 8,000 signals for copying
Economic news for exploring financial markets

If you do not have an account, please

register
This indicator is not on bars or on tick based. It strictly works based on a time. It generates a new bar with Open, Close, High and Low for the given period in seconds. This version does not depend on ticks at all (it works even on weekends — creating a flat line, since there is no price change, but it works) and this version is able to display data even when ticks in regular sessions are not coming in.
Also, pay attention that starting multiple instances of the same indicator with same settings at different time will not produce same "chart": the data will be different.

PS: it does not generate offline data.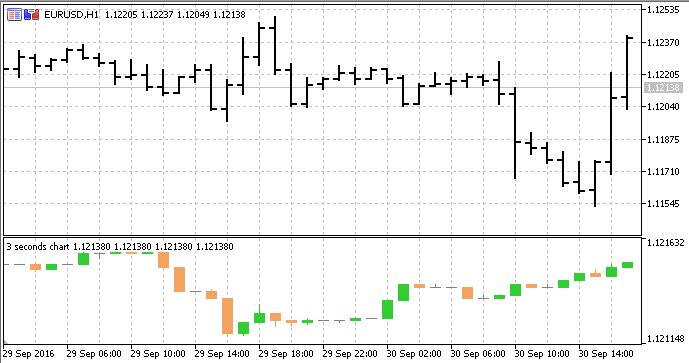 Translated from Russian by MetaQuotes Ltd.
Original code: https://www.mql5.com/ru/code/16482
Bcrypt
Class for working with AES-256 encryption.

Spread per hour statistics
Simple average spread per hour statistics output.

MACD Candles
This is one more possible way of making MACD — as a candles, without the price and signal line.

Fibonacci Auto Channel
The indicator is finding out the minimum and maximum for the desired period and draws fibo zones in those bounds.