The real author:
Kim Igor V. aka KimIV
The i-ParamonWorkTime indicator. This indicator selects within 24 hours two periods of the highest market volatility. These periods values can be defined by the indicator input parameters:


input int    NumberOfDays=5;            
input string Begin_1     ="08:00";      
input string End_1       ="11:00";      
input color  Color_1     =clrDarkBlue;  
input string Begin_2     ="14:00";      
input string End_2       ="17:00";      
input color  Color_2     =clrPurple;    
input bool   HighRange   =false;

Working time for trading:
As a rule, the highest market volatility is 10.00 am - 01.30 pm MSK and 04.00 pm - 07.30 pm MSK. Frankfurt Stock Exchange opens at 10.00 am (it is also a strong stock exchange), at 11.00 am - London (all Europe enters the market). New York Stock Exchange opens at 4.00 pm, Chicago Stock Exchange opens at 5.00 pm (all the USA enters the market).
This indicator was first implemented in MQL4 and published in Code Base at mql4.com on 26.09.2007.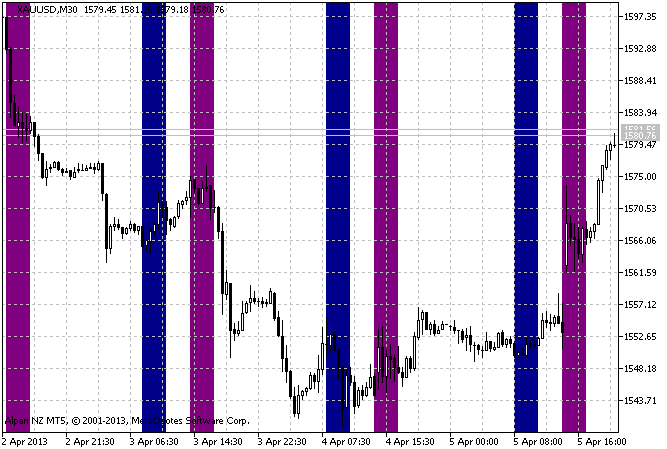 Fig.1 the i-ParamonWorkTime indicator