The real author:
Kalenzo
The RSI indicator drawn on the basis of the smoothed price series with the added signal line for more precise definition of entry points and the current trend.
For better readability the indicator is performed in zero relative symmetric form.
Indicator input parameters:



input Smooth_Method RSIOMA_Method=MODE_EMA; 
input uint RSIOMA=14; 
input int RSIOMAPhase=15; 
input Smooth_Method MARSIOMA_Method=MODE_EMA; 
input uint MARSIOMA=21; 
input int MARSIOMAPhase=15; 
input uint MomPeriod=1; 
input Applied_price_ IPC=PRICE_CLOSE; 
input int HighLevel=+20; 
input int MiddleLevel=0; 
input int LowLevel=-20;  
input int Shift=0;                            
The indicator uses SmoothAlgorithms.mqh library classes (must be copied to the terminal_data_folder\MQL5\Include). The use of the classes was thoroughly described in the article "Averaging Price Series for Intermediate Calculations Without Using Additional Buffers".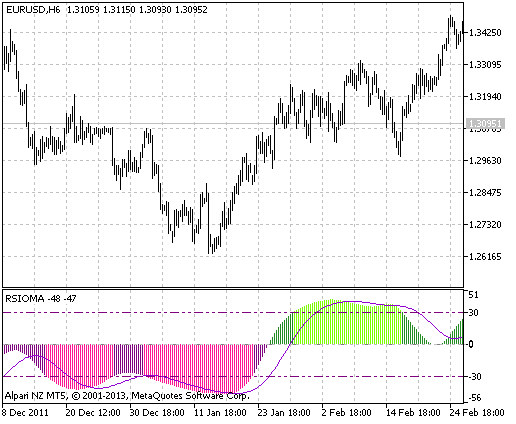 Fig.1 The RSIOMA indicator