Our indicator scans for TD Sequential / Combo Setup and Countdown signals in multiple timeframes for the all markets filtered and shows the results on Dashboard.
TD Sequential Signals

EURAUD Daily TD Sequential Countdown Buy
Entry
Aggressive Approach: Buy on the close of a TD Buy Countdown bar thirteen, or
Conservative Approach: Subsequent to a TD Sequential Buy Countdown thirteen, wait
for the first instance when the close is greater than the close four price bars earlier—
i.e., a bullish TD Price Flip.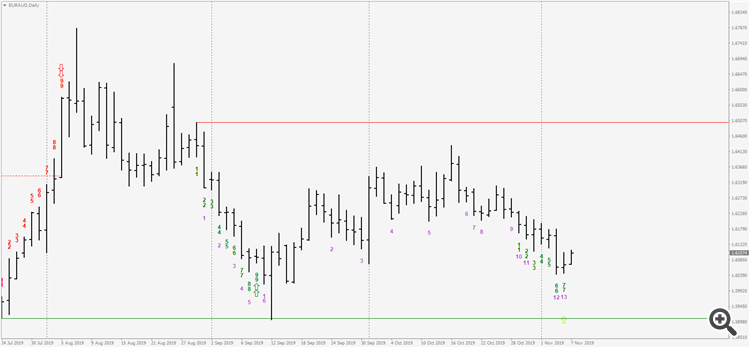 Stop Loss
1. identify the lowest true low throughout the TD Sequential Buy Countdown process,
which includes bars one through thirteen, whether or not it is a numbered
price bar;
2. Calculate the difference between the true high and true low for that bar; and
3. Subtract that true range from its true low.