The worst performer last Friday was the British pound which came under increased selling pressure, dropping to a low of 1.3764. The reason for the sharp sell-off in the GBP/USD was not only the U.S. dollar which came back into fashion amid the sell-off in the equity markets, but also Brexit discussions. On Friday, the EU's chief negotiator Michel Barnier warned that a "Brexit transition is not a given if disagreements persist". The pound subsequently gave up its gains that it scored after the BoE's hawkishness on Thursday.
GBP/USD
We saw the cable recently trading with a downward tilt, loosing further ground after the pound was unable to stabilize above 1.40. Whether there will be further losses towards 1.3650 remains to be seen and hinges on the market's appetite for dollars. If the pound falls below 1.3740 we expect further losses towards 1.3650 and 1.36. If the pound, on the other side, climbs back above 1.40 it could extend its upward movement towards 1.4170. Given the overall uptrend and with the support around 1.3750 still intact we may see some buyers sweeping in.
This week, the spotlight turns to Consumer Price Reports from the U.K. and USA. The U.K. Consumer Price Report is due for release Tuesday and is expected to have a significant impact on the pound's price action. On Wednesday we have the U.S. CPI report, which is expected to show that headline and core inflation rates ticked down. If inflation data, however, surprises to the upside, the greenback will receive a further boost.
EUR/USD
The euro remains above 1.22 but for how long? The single currency was able to hold above the 1.22-treshold but chances are currently in favor of upcoming bearish potential, at least as long as the euro remains below 1.2350. We will focus on a significant break below 1.22 in order to anticipate further bearish momentum. Lower targets could then be at 1.21 and 1.2050. If the euro is however able to stabilize above 1.2350 it could head towards 1.25.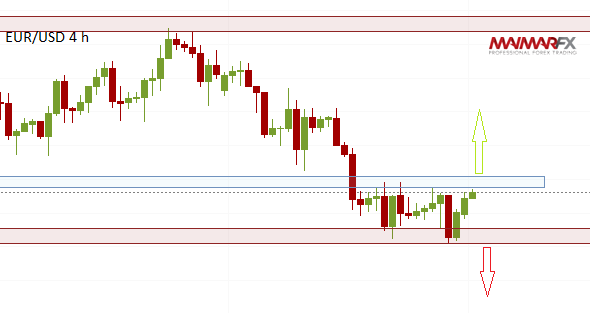 There are no major important economic reports from the Eurozone this week. Wednesday's GDP reports are not expected to have a significant impact on the euro.
Here are our daily signal alerts:
Daily Forex Signals:
View our daily signal alerts http://www.maimar.co/category/daily-signals/
Subscribe to our daily signal service http://www.maimar.co/signals/
We wish you good trades and many pips!