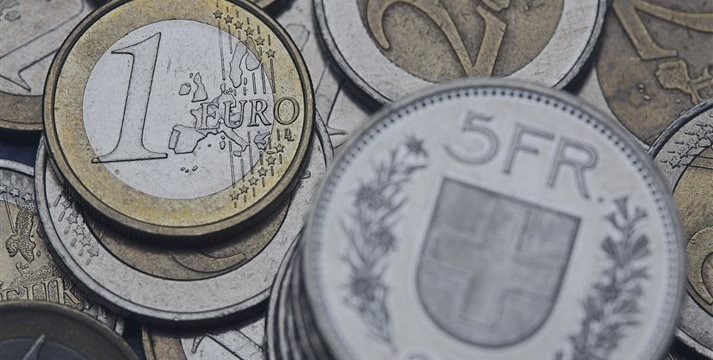 On Thursday the euro was steady near three week highs against the Swiss franc, a day after Switzerland's central bank warned that negative interest rates remained an option to enforce the cap on the franc.
EUR/CHF was last trading at 1.2097, close to Wednesday's three week peaks of 1.2117. The pair was likely to find support at the 1.2070 level and resistance at around 1.2120.
On Wednesday the Swiss franc fell to three week lows against the euro after Swiss National Bank official Thomas Moser said in an interview with The Wall Street Journal that negative interest rates would be used if needed.
The SNB imposed the 1.20 per euro exchange rate floor in September 2011 in order to ward off the risk of deflation and a recession as a result of the franc's rapid appreciation.
The franc has approached that level in recent sessions as the euro weakened after the European Central Bank unexpectedly cut rates to record lows on September 4 and unveiled new easing measures in a bid to shore up inflation. The franc advanced approximately 0.9% against the euro during August, prompting the SNB to reiterate that it would defend its cap on the franc by buying unlimited amounts of foreign currency if necessary.
SNB President Thomas Jordan has warned that an appreciation of the franc would heighten the risk of negative price growth.
Earlier this month Jordan said the franc is "still highly valued" and added that maintaining the exchange rate cap is "absolutely central to ensure adequate monetary conditions in Switzerland".
Expectations for an early hike in U.S. interest rates continued strengthening demand for the dollar. A study by the San Francisco Fed published on Monday indicated that central bank officials see rates rising sooner than markets expect. The Fed was expected to cut its asset purchase program by another $10 billion at its upcoming policy meeting next week which would keep it on track for winding up the program in October, and to start raising interest rates sometime in mid-2015.
USD/CHF was last at 0.9365, not far from Wednesday's one year highs of 0.9394.
Elsewhere, the euro was steady against the dollar, with EUR/USD at 1.2919, holding above Tuesday's 14 month lows of 1.2858.