Do you like the article?
Share it with others —
post a
link
to it!
How to master Machine Learning
13 753
1
All beginning traders start their learning journey with the technical analysis basics, and many of them read the same books on stock exchange trading. The basics are normally easy to understand. However, the initial manual trading phase passes fairly quickly. The next step is to achieve greater stability of trading results and to increase trading volumes, while covering a variety of financial instruments and maintaining low risk. This is where algorithmic trading via trading robots comes in handy, which is however a totally new area of study. In addition to financial market knowledge, it requires programming and technical analysis skills.
The algorithmic trading topic is too broad. By simply searching on the web, you can find hundreds or even thousands of specialized resources and tutorials. One of the approaches which is becoming increasingly popular concerns Machine Learning and Neural Networks. This is a whole new area of diverse knowledge, and thus it can be difficult to understand where to start learning this subject. We have prepared a selection of materials in English in order to save you time searching for this information.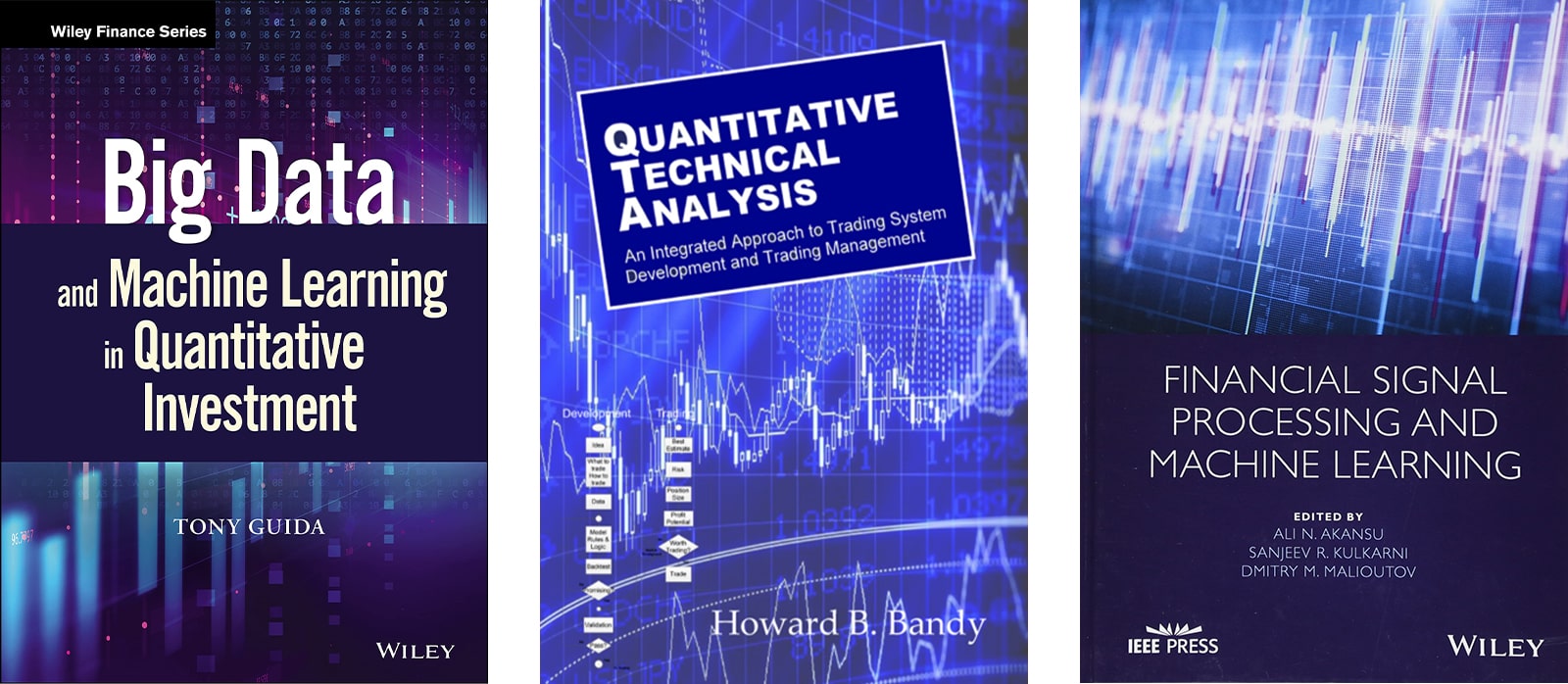 Books
A selection of books on how to use Machine Learning in algorithmic trading. This area requires knowledge of mathematics, statistics and Python programming skills.

Online Courses and Specializations
Online courses offer the most accessible and popular way to gain knowledge in focused areas. Here is a selection of Machine Learning courses available on Udacity and Coursera


Udacity: Georgia Tech. Machine Learning for Trading. This course introduces students to the real-world challenges of implementing machine learning based trading strategies. It focuses on how to apply probabilistic machine learning approaches to trading decision-making. The course covers statistical approaches like linear regression, KNN and regression trees and it considers how to apply them to actual stock trading situations. The duration is approx. 4 months.


Udacity: WorldQuant. Artificial Intelligence for Trading. This 6-month course provides the basics of quantitative analysis, including data processing, trading signal generation, and portfolio management. You will learn how to use Python to work with historical stock data, develop trading strategies, and construct a multi-factor model with optimization.


Coursera: NYU specialization Machine Learning and Reinforcement Learning in Finance Specialization (Weakly related to trading), which consists of four courses 13-24 hours each. This series is designed for three categories of students:


Practitioners working at financial institutions such as banks, asset management firms or hedge funds.
Individuals interested in applications of Machine Learning for personal day trading.
Current full-time students pursuing a degree in Finance, Statistics, Computer Science, Mathematics, Physics, Engineering or other related disciplines who want to learn about practical applications of ML in Finance.

Experience with Python (numpy, pandas, and IPython/Jupyter notebooks), linear algebra, basic probability theory and basic calculus is necessary to complete assignments in this course.

The courses:

YouTube Videos

The list below shows some of the most useful trading videos concerning the application of Machine Learning.

Blogs and Relevant Websites

There are a lot of different Machine Learning related blogs and websites. Below are the most popular resources which might be useful for algorithmic trading purposes.


Interviews
Ten interviews on the application of machine learning in algorithmic trading. Leading industry experts and practitioners answer questions and share useful advice. The videos have automatically generated subtitles.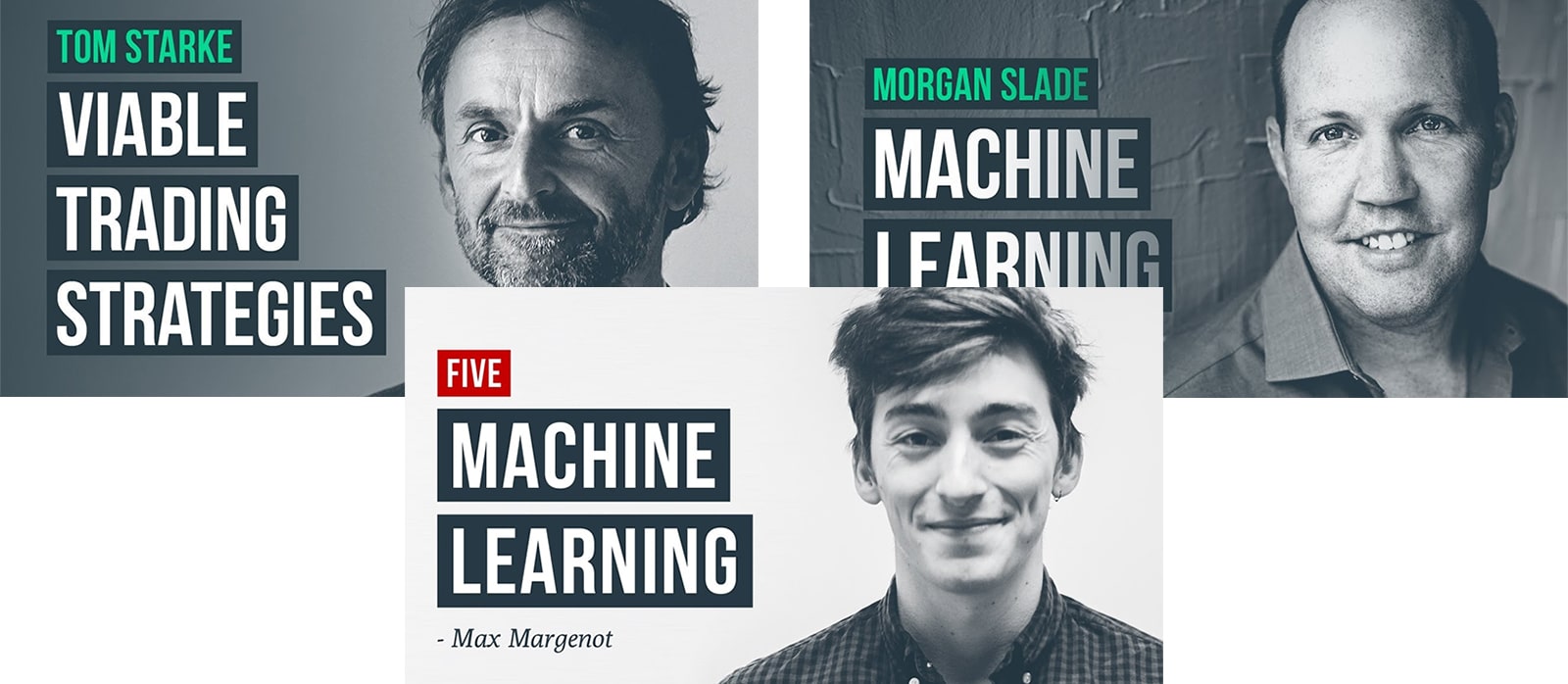 Scientific Papers
Financial markets play an important role in the economic and social organization of modern society. Information is an invaluable asset in such markets. However, with the modernization of information systems, such a huge amount of data available to traders may make financial asset analysis difficult to impossible.
Market researchers are developing intelligent methods and algorithms for decision support in various market segments. The list below contains more than 30 links to papers from scientific and educational institutions around the world. They cover Deep Learning, Classification and other AI topics in terms of their application to financial market prediction and trading.

News and Sentiment Trading
There is a constant increase in the amount of news broadcast by various news agencies. The application of filters was required in order to benefit from this data stream therefore this feature was mainly used by the research departments of large investment firms. However, with the advent of news content digitization, developing computational capabilities and linguistic methods of interpretation, this data can now be analyzed efficiently and quickly. The programs that analyze this data are most commonly referred to as Sentiment Algorithms.

Conclusion
The purpose of this article is to provide traders with a brief, useful summary of publicly available machine learning tutorials. We hope that even a beginner will find something useful for themselves and get an insight of further development ideas. Some of the presented materials might require additional knowledge that goes far beyond a simple understanding of technical indicators and programming skills.
If any of the subjects seem too complicated, now you know which courses to look for on the web in order to master the machine learning area. Learn something new, assist other traders, share links and your ideas in this complicated yet interesting area, via our MQL5.community.

Translated from Russian by MetaQuotes Ltd.
Original article: https://www.mql5.com/ru/articles/10431

DoEasy. Controls (Part 4): Panel control, Padding and Dock parameters
In this article, I will implement handling Padding (internal indents/margin on all sides of an element) and Dock parameters (the way an object is located inside its container).

MQL5 Wizard techniques you should know (Part 01): Regression Analysis
Todays trader is a philomath who is almost always (either consciously or not...) looking up new ideas, trying them out, choosing to modify them or discard them; an exploratory process that should cost a fair amount of diligence. This clearly places a premium on the trader's time and the need to avoid mistakes. These series of articles will proposition that the MQL5 wizard should be a mainstay for traders. Why? Because not only does the trader save time by assembling his new ideas with the MQL5 wizard, and greatly reduce mistakes from duplicate coding; he is ultimately set-up to channel his energy on the few critical areas of his trading philosophy.

Learn how to design a trading system by Ichimoku
Here is a new article in our series about how to design a trading system b the most popular indicators, we will talk about the Ichimoku indicator in detail and how to design a trading system by this indicator.

Developing a trading Expert Advisor from scratch (Part 8): A conceptual leap
What is the easiest way to implement new functionality? In this article, we will take one step back and then two steps forward.

You are missing trading opportunities:
Free trading apps
Free Forex VPS for 24 hours
Over 8,000 signals for copying
Economic news for exploring financial markets
Registration Log in
If you do not have an account, please
register