Description:

The Forex Strategy "10 points on EURUSD" has a number of varieties and something similar to the Session Breakout strategy, many professional traders use it, so if you combine it with an optimal money management, you can achieve very good trading results.

The idea is the following:
The strategy is based on breakthrough of the maximum and minimum price values of the previous trading day. The most of the traders believed that if the level of the previous day has been broken, the price goes up, and vice versa for the minimum. From the other side, these two extrema are used as a stop-loss levels for the most of the traders.
Therefore, if the price has breaked the minimum of the previous day, stop-losses will be executed and further price movement will continue for some number of points.

The same is for the maximum, but only opposite direction.

So, using these facts, we will earn profits if we open buy, after the maximal price breakthrough of the previous day, and sell after the breakthrough of the previous day minimum.
But another category of FOREX traders use the same 2 points as support and resistance levels, so the price does not always move in the breakthrough direction of the maximum and minimum of the last days - therefore there it is necessary to use fixed stop-losses.


Remark:
The recommended currency pair is EURUSD.
The pending orders are valid from 00.00 (GMT) of today to 00.00 (GMT) of tommorow.

1. At 00.00 (GMT time) send 2 pending orders: one of buy at the following price: previous day high +2 points and one for sell at the following price: previous day low -2 points.

2. Set Тake profit - 10 pips.

3. Set Stop-loss - 5 pips.
4. Important feature: it is necessary to deal only at first crossing of the maximal and minimal prices during the trade day (it means that if pending orders has been closed today with SL or TP, we are not trading today any more!)
Image: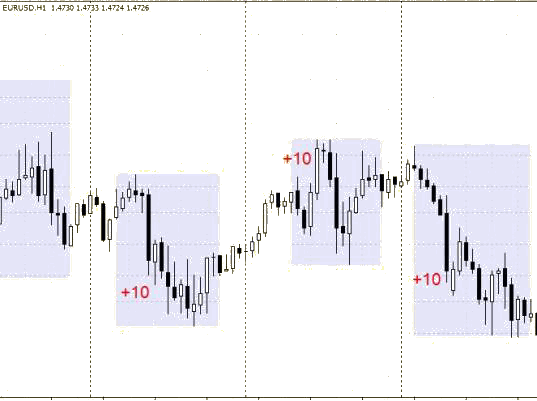 Recommendations:
For each deal the risk should be 2% -5% of the deposit.
Test it and write your proposals.
Please test is only at daily charts and all ticks (the most precise method)

Here is the test results for the period 01.01.2009 - 30.11.2009 on EURUSD DAY ALL TICKS (the most precise modelling...)
Editor's remark:

Note that it's a mirror translation of the original Russian version.
If you have any questions to the author, suggestions or comments, it's better to post them there.

If you have found this code useful for trading or educational purposes, don't forget to thank author.