Trailing Stop that can do everything - expert for MetaTrader 4
Views:

45281

Rating:

Published:

2015.12.11 16:08

Updated:

2015.12.11 16:08
You are missing trading opportunities:

Free trading apps
Over 8,000 signals for copying
Economic news for exploring financial markets

If you do not have an account, please

register
I present you the Trailing Stop that can do everything expected from a trailing stop.
It can trail both real and virtual.
By points, as usual, by SAR, ATR and MA indicators, by candlesticks and by fractals.
It can trail percent of the profit.
It can do all of that based on the net breakeven as well as on each order separately.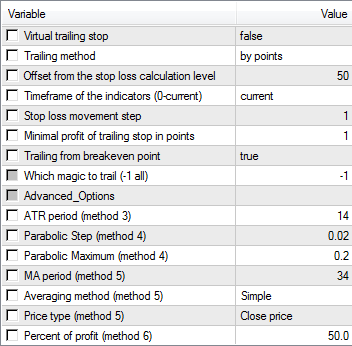 In the strategy tester the EA opens the order pairs by itself, so that its operation could be seen and understood.
It is even possible to run optimization and develop a new strategy based on it.
Check, test, and if you see something still missing, it will be added!
Translated from Russian by MetaQuotes Ltd.
Original code: https://www.mql5.com/ru/code/14119

iFibonacci
This indicator will Draw Fibonacci Tools such as Retracement, Arc, Fan, Expansion, Time Zones. Based on ZigZag indicator.

Expert_RSI_Stochastic_MA
This Expert Advisor uses three indicators: MA(150), RSI(3) with the levels of 80 and 20, Stochastic(6, 3, 3) with the levels of 70 and 30. The direction of opening deals is based on MA. Entry by RSI and Stochastic. Exit by Stochastic.

RJT Matches
This indicator helps determine the end and the beginning of trends based on the inclination of the matches.

iStdDev - Standard Deviation Channel
Simple indicator to show two levels of Standard Deviation Channel on your chart.