The indicator is an alternative to МА and other trend indicators, does not use Moving Averages and periods reacting only on the price movements. Delta as the reversal parameter, is not deposited on close price but the extremums, i.e. high and low. At the same time the condition of the turn is not only the delta but the breakthrough bar, i.e. breakthrough of a certain price level. Under the breakthrough bar (the bar with the "pure" closing) means the bar which closing is above high or below the previous bar's low. Isolation of these bars is like the appearance of a new box on the charts of (three) linear reversal.
New functional:
definition of the reversal parameter as in pips, so in percentage

enable / disable the reversal levels display

enable / disable the last trends information display


when displaying the latest data not only the number of the breakthrough bars of the previous trends, but their size in pips (from the price of the first bar to the close price of the next trend) are displayed
Parameters:
The Breakout Bars Trend v2 indicator with 1% delta: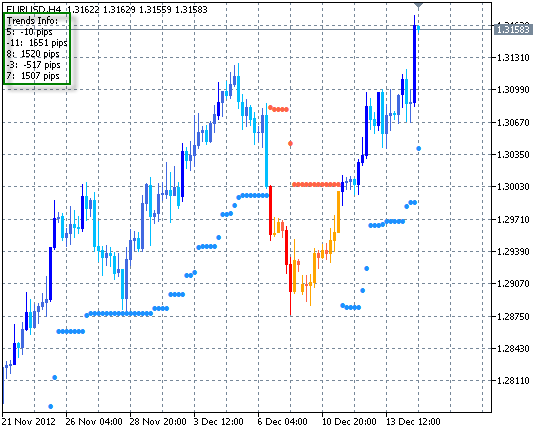 Recommendations:
The main purpose is the definition of the trend direction which involves the use of other settings to determine the input/exit points.

It can be used independently. For instance: if the last 3-4 series include no more than 1-3 breakthrough bars, or the last 3-4 trends have the negative size, it speaks of the flat market without definite direction after which most probably the "long" trend occurs.
Attention:

To a correct display of the indicator go to the properties of the chart (F8) - General and uncheck mark from the "Chart above" parameter.