The real author:
Svinozavr
Replacement of a standard Stochastic. It has the same parameters as the standard plus "sensitivity" parameter Sens in parameters window. It allows cutting off fluctuations below a certain level set in points. Thereby, the number of false signals is considerably reduced.
The fact is that the standard Stochastic (by Layne) locates the current price between price highs and lows for the number of bars set by %K (Kperiod) parameter. And it does not matter, if extreme points differ from each other by 1 or 100 points. It will still indicate oversold/overbought values. Implementation of some limit allows cutting off oscillations that are inconsiderable for a trading system.
This indicator was first implemented in MQL4 and published in Code Base at mql4.com on 19.10.2009.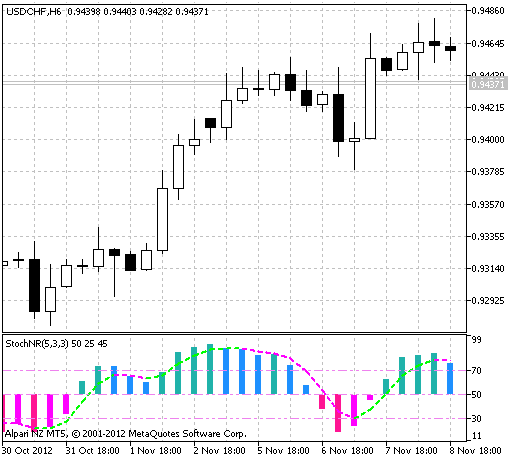 Fig.1 The ColorStochNR indicator