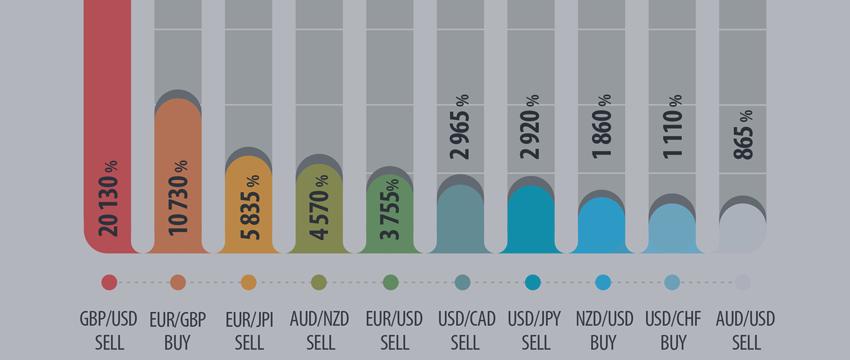 The graph shows the profit that the investor could receive in the Forex market, having completed only one transaction in 2016 - having opened the position on January 1 and having closed it on December 31.
High return rates are achieved provided that the transaction was opened in the right direction (sell, buy) and the maximum leverage of 1: 1000 was used, which the NordFX provides to its clients.
This makes it possible to receive significant profits from operations not only with currencies that are growing, but also with those that are falling.
The largest profit, from 10 000 per cent to 20 000 per cent, was made in transactions with the pound sterling, which is related to a sharp drop in this currency following the referendum on the UK exit from the EU.
The pair AUD/USD closes the top ten (the Australian dollar against the US dollar). Within the year, it was making significant fluctuations, reaching 1000 points, but in December it returned practically to its initial values. However, despite this, the sale of this pair could bring the investor a profit of 865 per cent.
https://nordfx.com/