The New Zealand dollar was surprisingly resilient in the week after Brexit. Can it continue higher? The dairy report is the main event. Here is an analysis of fundamentals and an updated technical analysis for NZD/USD.
New Zealand's trade balance came out better than expected with 358 million. Also business confidence advanced nicely. This, together with the post-Brexit bounce helped the kiwi advance. In the US, GDP came out slightly better than expected but this did not rock the boat too much.
Updates:
NZD/USD daily graph with support and resistance lines on it. Click to enlarge: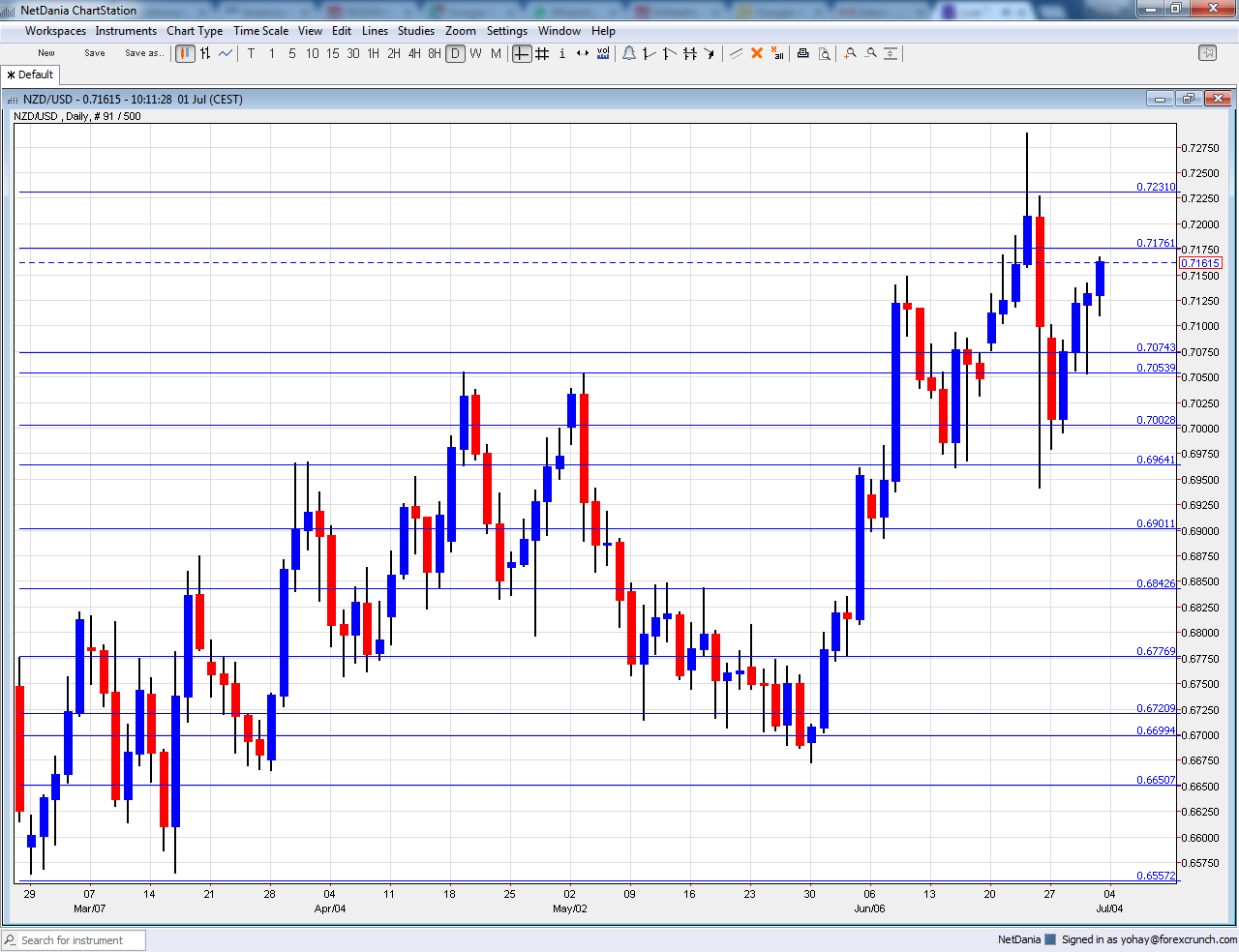 NZIER Business Confidence: Monday, 22:00. This quarterly survey of 2500 businesses slipped to 2 points from 15 in the previous quarter. For Q2 2016, we could see a rise.
ANZ Commodity Prices:Tuesday, 1:00. Commodity prices are important for New Zealand and its agricultural exports. A rise of 1% was seen in May.
GDT Price Index: Tuesday, during the European afternoon. The Global Dairy Trade, also known as the price of milk, was flat in the most recent auction held in June 15th. This came after 2 rises beforehand. Will prices slip this time? This is the main event of the week.
NZD/USD Technical Analysis
Kiwi/dollar opened with a minimal weekend gap to the downside and recovered quickly, eventually challenging the 0.7160 line .
Technical lines, from top to bottom:
0.7290 was the pre-Brexit peak and serves as high resistance. The next line is 0.7220.
0.7160 worked as support when the kiwi was trading on much higher ground in 2014. 0.7050 was the high in April 2015.
The round level of 0.70 is still important because of its roundness but it isn't really strong. The low of 0.6940 allowed for a temporary bounce.
The round 0.69 level has switched positions to resistance. 0.6840 capped the pair during May 2016 and tops the range. 0.6720 is the low seen in May 2016 more than once providing the lower bound.
The round level of 0.67 that works nicely as support. Another line worth noting is 0.6640, which capped the pair in November.
The post crisis low of 0.6560 is still of importance. Below, the round 0.65 level is of high importance now, serving as support.
I am neutral on NZD/USD
It seems that the kiwi is more resilient to the Brexit shocks. While milk prices could turn south, they would not be bad enough to hurt the kiwi too much.