The US dollar continues to strengthen in the foreign exchange market after it reached new lows last week. The dollar index DXY, reflecting its value against the basket of 6 other currencies, is growing for the third consecutive day. At the beginning of the European session, the futures on the DXY index traded with an increase near the mark of 89.50.
The growth of the dollar is also promoted by the growth of the yield of US Treasury bonds, which is close to the highs observed last week. The yield on 10-year Treasury bonds rose to 2.92% on the eve of the first trading day in the US this week. On Monday, US markets were closed due to the day off (President's Day).
Meanwhile, the attitude to the dollar on the part of investors remains negative. Economists and financial companies lowered forecasts for US GDP growth in the first quarter of 2018. Significant growth of the country's budget deficit, coupled with the growth of the foreign trade deficit to $ 566 billion, the highest level since 2008, leads to a further decrease in investors' interest in the dollar.
The new US tax law, which provides for a significant reduction in taxes and an increase in budget spending, will only contribute to the growth of the federal budget deficit.
Despite the positive macro statistics coming from the US, deep fundamental factors are on the side of dollar sellers.
Meanwhile, the dollar receives short-term support on the eve of the publication on Wednesday (19:00 GMT) of the minutes from the January meeting of the Federal Reserve System.
Probably, investors will wait for new signals from the leadership of the Fed regarding further interest rate increases in the US. As you know, the Fed planned 3 rate increases in 2018 and 2 more increases in 2019.
From the news for today, we are waiting for the publication of the results of the next dairy auction (in the period after 14:00 GMT). The main part of the New Zealand economy is the timber and agricultural complex, and a significant part of the New Zealand export is dairy products, primarily milk powder. Two weeks ago, the price index for dairy products, prepared by Global Dairy Trade, came out with a value of +5.9% (against previous values ​​of +4.9%, +2.2% and +0.4%). If the prices for dairy products rise again, the New Zealand dollar will strengthen, including in the pair NZD / USD. The decline in world prices for dairy products will hurt the quotations of the New Zealand dollar.
Nevertheless, this time the reaction of market participants to this publication will likely be restrained due to the continued celebration of the New Year in China, which is New Zealand's largest partner and buyer of dairy products from this country.
*)An advanced fundamental analysis is available on the Tifia Forex Broker website at tifia.com/analytics
Support levels: 0.7340, 0.7300, 0.7270, 0.7240, 0.7200, 0.7140, 0.7080, 0.6865, 0.6800
Resistance levels: 0.7400, 0.7430, 0.7500, 0.7550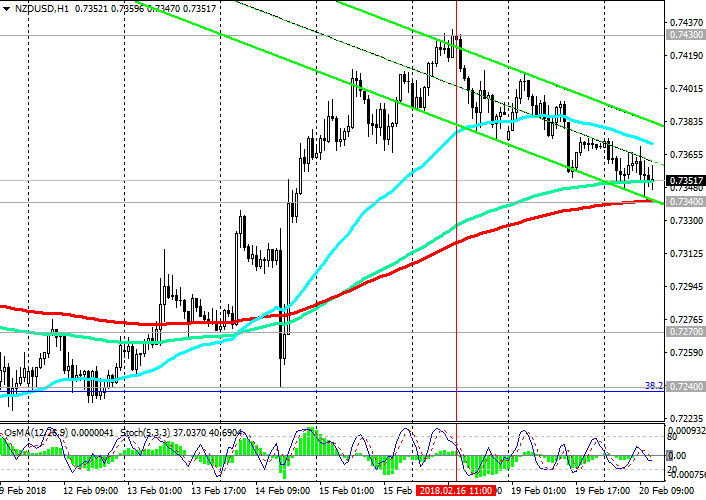 Trading Scenarios
Sell ​​Stop 0.7330. Stop-Loss 0.7380. Take-Profit 0.7300, 0.7270, 0.7240, 0.7200, 0.7140, 0.7080
Buy Stop 0.7380. Stop-Loss 0.7330. Take-Profit 0.7400, 0.7430, 0.7500, 0.7550
*) For up-to-date and detailed analytics and news on the forex market visit Tifia Forex Broker website tifia.com