Investors are still assessing the possible long-term impact on international trade relations from the recent decision of the White House to impose import duties on steel and aluminum. "America is first of all". The US, as usual, does not particularly consider the interests of their closest trading partners when it comes to the interests of the US itself. "When a country (the USA) loses many billions of dollars in trade with almost all the countries with which it conducts business, trade wars are good, and they are easy to win", Trump wrote on Twitter, making it clear that these are normal methods of the US administration .
For American companies, primarily working in these sectors of the economy, this may be good, but for the nearest US trading partners - not very much. The European Commission and China announced the possibility of applying retaliatory measures.
If the US stock indices appear to have positively perceived the information on the protection of the domestic market through the introduction of import duties on steel and aluminum,
the dollar demonstrates multidirectional dynamics, strengthening against commodity currencies, and declining against the yen and European currencies. The second day the futures for the DXY index, reflecting the value of the dollar against a basket of 6 other currencies, are trading near the 89.90 mark.
At the beginning of today's European session, the dollar is growing against Canadian and Australian dollars, but is down against the New Zealand dollar.
From the news for today, we are waiting for the publication of the results of the next dairy auction (in the period after 14:00 GMT). The main part of the New Zealand economy is the timber and agricultural complex, and a significant part of the New Zealand export is dairy products, primarily milk powder. Two weeks ago, the dairy price index, prepared by Global Dairy Trade, came out with a slight decrease (-0.5%) against the previous values ​​of + 5.9%, + 4.9%, + 2.2% and +0.4 %. If the prices for dairy products rise again, the New Zealand dollar will strengthen, including in the pair NZD / USD. The decline in world prices for dairy products will hurt the quotations of the New Zealand dollar.
Also worth paying attention to the publication on Thursday (02:00 GMT) of data on China's foreign trade balance (in February) which may have a significant impact on the New Zealand dollar and cause volatility in the NZD / USD pair, as China is the largest trade and economic partner of New Zealand and the buyer of agricultural products of the country.
*)An advanced fundamental analysis is available on the Tifia Forex Broker website at tifia.com/analytics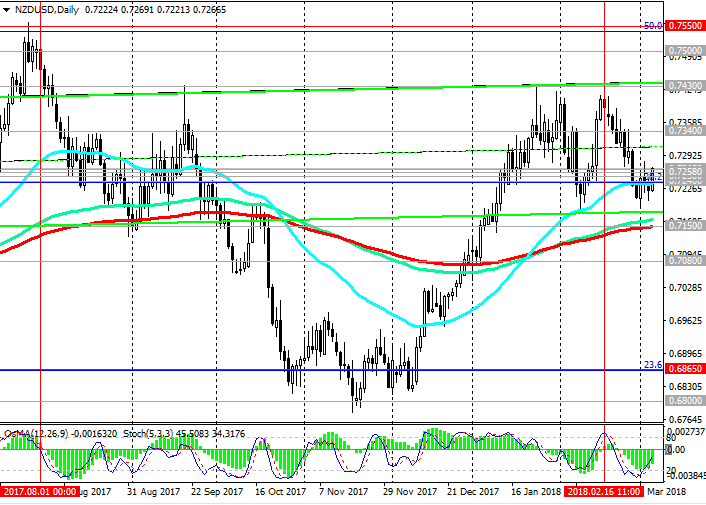 Support levels: 0.7250, 0.7240, 0.7200, 0.7140, 0.7080, 0.6865, 0.6800
Resistance levels: 0.7258, 0.7265, 0.7300, 0.7340, 0.7400, 0.7430, 0.7500, 0.7550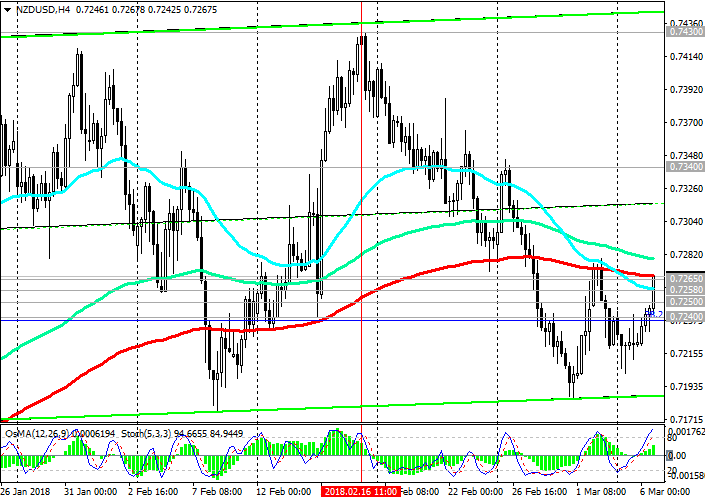 Trading Scenarios
Sell ​​Stop 0.7230. Stop-Loss 0.7280. Take-Profit 0.7200, 0.7140, 0.7080, 0.6900, 0.6865
Buy Stop 0.7280. Stop-Loss 0.7230. Take-Profit 0.7300, 0.7340, 0.7400, 0.7430, 0.7500, 0.7550
*) For up-to-date and detailed analytics and news on the forex market visit Tifia Forex Broker website tifia.com