Interview on Automated Trading Championship 2010 from 09.11.2010.
The risky development of Alexander Anufrenko (
Anufrenko321
) had been featured among the top three of the Championship for three weeks. Having suffered a catastrophic Stop Loss last week, his Expert Advisor lost about $60,000, but now once again he is approaching the leaders. In this interview the author of this interesting EA is describing the operating principles and characteristics of his application.
The first question is traditional, Alexander: How have you come into the world of automated trading?

Frankly speaking, I am a newbie. I've been interested in Forex for several years, and about a half a year ago I got acquainted with automated trading. My friend from Minsk who has long been working with it "dragged" me into there. He told me that it's interesting and profitable. In Brest it is poorly developed. But I studied in the Belarusian State Economic University, so I'm not very far from it. I'm a venturesome person. Closer to the Championship I began to study the program more actively. Naturally, I wanted to try my luck.
As for my relationship with the computer, I would call myself a confident user, that is I use many programs, and I have some idea about programming. Your website is very useful - it contains various articles and ready-made codes. I believe you strive to ensure that everyone can enjoy your product. Having an idea about programming, you can understand the code, change criteria in the blocks and create your own system. I believe there will be more participants in the next Championships - new Expert Advisors will be published in the Code Base, modifying which you can get your own system. And it's great, that's what robots are needed for - it's like you don't have to know thoroughly all the principles of a computer to be able to use it. Specifically I visited the website when learning MQL4: when I needed to consider a separate command, I found its detailed description (at the time MQL5 was slightly raw, it seemed to me). I didn't have much difficulty in learning the new language, because I worked most with articles and blocks, not with separate commands. And I am not an expert in programming, but it is not necessary for the Championship, I think.
What is the idea implemented in your Expert Advisor?

The basis for making a decision about entering is a comparison of averages. But I consider it only a part of the idea, and not the main one. It is important to find the right exit criteria - SL and TP. Another "feature" is money management. There are also other "features". Generally the Championship sets its own rules, that is, money management must be adaptive and risky, or you will stay unnoticed. In addition, my EA quickly makes decisions not to lose the precious time of the Championship. And the currency pair is also important - I use the one that is most speculative in my opinion - GBP/USD. Such is the approximate composition of my Expert Advisor.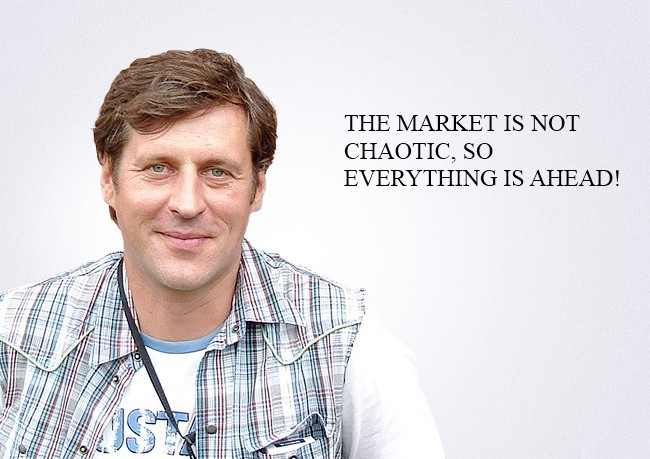 Most of deals in your EA are closed by SL and TP, but some of them (those with small lots) are closed with no stops. On what basis are they closed then?

I've set constant Take Profits, the behavior of the pair is important here. TP empirically corresponds to the daily movement of the pair to avoid falling into the extreme. But as it turned out, it's not always successful. Stop Losses are dynamic - it is my know-how. The large Stop Loss that happened recently was not an accident. I hope that everything will return to normal. And those "minor" trades have been caused, I believe, by the restart of the system, which Organizers had performed.
What do you feel about the recent Stop Loss, which had lost you more than $50,000?

It was painful of course. If we consider the market as a chaotic system, then we can apply the Monte Carlo method, that is one part of the segment is my 82,000, while the other is X, which is equal to the quota needed to win (in the previous Championship it was equal to 160,000). Thus it is easy to calculate the probability of winning. Now, instead of 82,000 I have to calculate with 20,000. But the market is not chaotic. So everything is ahead.
Why did you choose the one-minute timeframe?

I thought it was the most volatile of all, with promising probabilities of earning. But I think that it is not so important - I could work also with one-hour timeframe, or even a 4-hour one, as the entry time is closer to hour or even 4-hours. Now I would probably reconsider this position and correlate the entry with the exit. But as they say, "a danger foreseen is half avoided". Although, probably then everything would have been different.
And if you had been given such an opportunity, what would you have changed in your EA?
I would have changed the timeframe from M1 to H4, which, of course, would have entailed a lot of other changes. I would have changed the entry rules a little bit - it's about that big loss. Although this idea probably came after the loss. Nevertheless it would have been right, I think. The Championship is sport, there is nothing to regret.
You've said your money management is one of the specific features of your Expert Advisor. What is so specific about it?

If speaking in general terms, its task is to risk where possible, be aggressive and not to fall under the Stop Out. The volume of entry depends on the available equity - this is a standard module that I'd found in one of the articles (of course, subject to the Rules of the Championship concerning 15 lots).
The balance chart of your Expert Advisor is like a rollercoaster. Was there a similar situation during testing?
During tests by changing the parameters I was seeking optimal strategy with a fixed lot to have a positive expectation. Then I added the "adaptive" money management.

The EA was then optimized by the profit criterion by changing the parameters of the moving averages. When testing the work of the EA with a fixed lot, I was trying it different parameters of averages, and selected those that had shown the greatest profit. During test the charts looked normal (without extreme drawdowns, long waiting or other things that probably could end up well, but most often end up losing the entire deposit, which is undesirable of course). It is impossible to insure against all probable situations, but you should try to accommodate as many variants of the EA behavior as possible.
Did you think before the start that you could be among the leaders during the Championship? How can you evaluate your chances of winning the Championship?
About the leadership - of course I hoped, but I never counted on that. I do not evaluate my chances of winning. I rather believe in them, I have them.
And finally, the question that I can't help but ask. In this Championship there are many Belarusian Expert Advisors with the same set of "currency pair - timeframe" (GBP/USD - 1 min). Your EA is also working on the same currency pair. How can you comment it?

I know a few guys from Belarus who are interested in automated trading and in the Championship. There were some similar ideas - aggressive money management, use of the full lot, work in the market, use of a volatile pair and some standard things from the website, and the rapid development of an Expert Advisor. But the two people I personally know (among them is the author of the disqualified EA who is also from Brest) are absolutely real people with certain knowledge in trading. And I think that thousands of EAs will participate in the next Championship. So in fact, the Championship, the MQL5 website and the base serve to promote the language. People are taking to it, the language is becoming popular - is it bad? I guess this is great for you.

Good luck in the Championship, Alexander!
Translated from Russian by MetaQuotes Software Corp.
Original article: https://www.mql5.com/ru/articles/535