Interesting script?
So post a
link
to it -
let others appraise it

TimeZones - indicator for MetaTrader 4
Views:

22241

Rating:

votes: 6

Published:

2016.05.16 09:29
You are missing trading opportunities:

Free trading apps
Free Forex VPS for 24 hours
Over 8,000 signals for copying
Economic news for exploring financial markets

If you do not have an account, please

register
Author: Alejandro Galindo
Displays 3 vertical lines each for a time zone.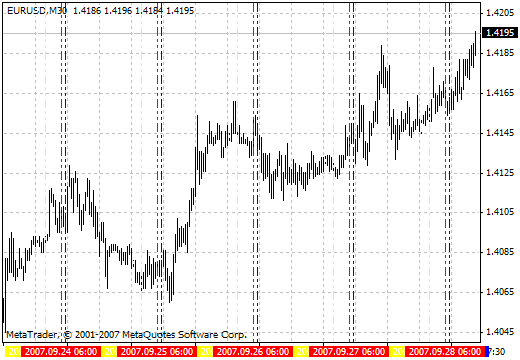 Translated from Russian by MetaQuotes Ltd.
Original code: https://www.mql5.com/ru/code/7429

rvmGann_sv8
The indicator implements the Gann principle in the form of a ZigZag.

rvmFractalsLevel
An interesting indicator that plots the trading channel by fractals and adds a Fibonacci fan on top.

Super-signals
This indicator is very simple to use: red arrow - sell signal, blue arrow - buy signal. Exceeds its analogues, such as Hi-Lo, Trend and others, by several times. Works on any timeframe and with any currency pair.

TMA
Here, the focus is on the middle part of the price series. In fact, they are double-smoothed simple moving averages. The simple Moving Averages' length depends on evenness or oddness of the chosen number of periods.