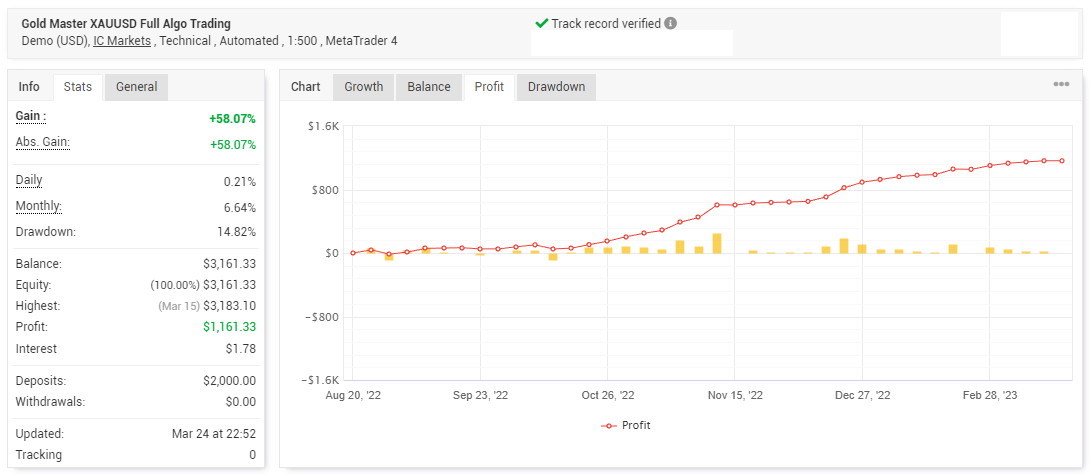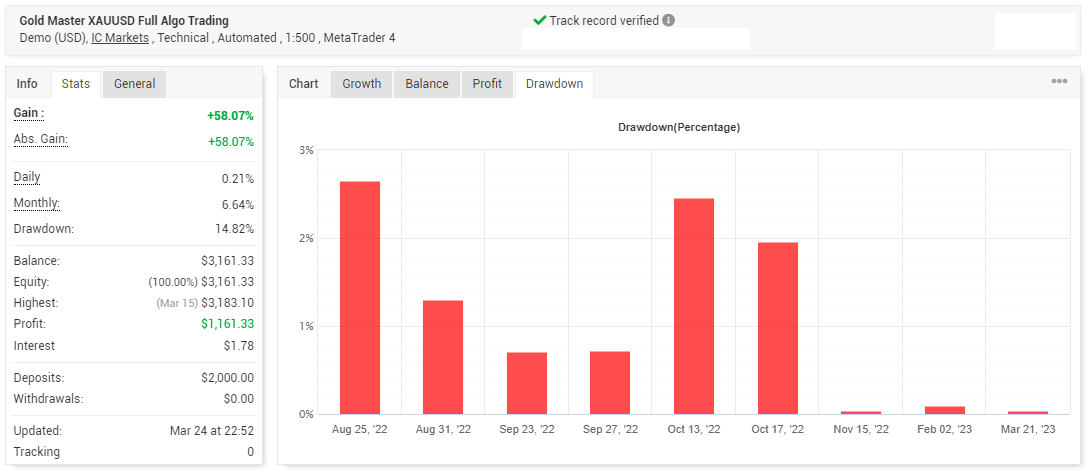 Looking for the best way to Invest in forex or recover your losses? The XAUUSD Gold Master will make profits for you on Auto. Think About 80% profit trades in matter of months.
Gold is one of the best out of all forex trading pairs, you know why? It generally performs well during global crises. Gold generally benefits at the expense of other assets during turbulent times. Gold is one of the most traded commodities in the forex market due to its pronounced role in both worlds of investment and consumer. Its just like you are trading gold in real life. Most gold traders end in profits.
By Choosing to trade and invest in XAUUSD, then we have been able to streamline our trading so as to move closer to more accurate trading decisions as we are familiar to the pattern and movement of this currency pair.
Gold Master is a fully automated and easy to use robot that has the Stochastic indicator working in combination with RSI and MACD filters built in. It is a dynamic EA that is very active with trades and capital management. Our product is also fully compatible with PipFinite Trend Indicator PRO. The EA has been designed for trading with the popular symbol XAUUSD!

Signal example: https://www.mql5.com/en/signals/1667657
The EA has dynamic sell loss and take profit control integrated, and hedging capabilities. Please use a different magic number on each pair to avoid order issues. Also, please check the max spread limit number to avoid entering trades during high spread sessions. If you want the setting files to test different configurations, please check our blogs.
Features
Trading range with multi layer and timeframe trend check
(only open trades if is the price is inside of a certain price range)
Market panic and stress detector (manages the capital by preventing losses when the market gets in panic)
Wrong trades management engine (low performance trades detection)
Smart order price (it waits for the target price, spread and fluctuations for opening a new order)
Smart order open (it waits for the right moment for opening a new order)
Smart order update (auto update sell loss and take profit for low performance orders)
Smart order close (many checks verifications before closing an order)
Smart hedging (auto open a hedging position if necessary to minimize the risk of ruin - can be turned)
Smart use of stop loss on every trade
Spread filter to avoid trading during bad market conditions
Slippage control algorithm, to avoid bigger losses during heavy slippage
Fully automatic mode, with adjustable entries
If you have any questions please let us know w/o hesitation!
Best regards!