Trading strategy for MetaTrader 4 based on the
SFT Local Trend Signal

indicator





Multicurrency strategy - suitable for any currency pairs, as well as for trading metals, options and cryptocurrency (Bitcoin, Litecoin, Ethereum, etc.)

Trading can be conducted on any timeframe.

Depending on your preferences, you can use both scalping and intraday, as well as medium-term and long-term.

The basis for opening deals is the SFT Local Trend Signal dial gauge.

Trading can be conducted as with the help of this indicator.

You can also use the Topical levels level indicator to amplify signals and more accurately place Stop Loss and Take Profit orders.

Now we consider in detail the various options for opening, tracking and closing positions.

And at the end of the article you can download a ready-made template with all the settings, as well as links to the indicators themselves with the possibility of free testing.
Installation and Setup
Learn more about how to choose, install, test for free, as well as buy indicators, see YouTube on video tutorials.
The settings described in this manual are indicated for the EURUSD currency pair.
Other tools may require additional adjustment of the indicator parameters.
Experimenting a little, you can choose the settings for any trading tool.
SFT Local Trend Signal indicator settings:
TrendPeriod = 9
Sensitivity = 10
Smoothing = 4
SoundAlert = False
EmailAlert = False
Topical levels indicator settings:
CalculationBars = 200
LineLength = 150
Filtr = 2
UpColor = DodgerBlue
DnColor = FireBrick
LineWidth = 2
Conditions for opening deals
The appearance of signal arrows on the SFT Local Trend Signal indicator is the main signal for opening deals

on the red arrow open Sell or Put (for options)
on the blue arrow open Buy or Call (for options)
The direction of opened deals should correspond to the trend direction on a higher timeframe.
If you trade on M1 or M5, then you should focus on M30 and H1.
When trading on M15, M30 and H1, we focus on H4, D1 and W1, respectively.
The exit from the transaction is carried out on the opposite signal or on the established SL and TP orders.
When using SL and TP, it is advisable to set SL for the nearest extremum, and TP to be equal to from 1 to 2 dimensions of SL.

Good work out the signals near significant levels.
Therefore, it makes sense to use the Topical levels indicator with SFT Local Trend Signal.
It significantly increases the reliability of the arrow signals and filters out the weaker ones.
Placing SL and TP orders is also simplified - they can be placed at the levels of the Topical levels indicator.
When the TP level is triggered, after which there is a next level, you can open in the same direction with transfer of the TP to the next displayed level.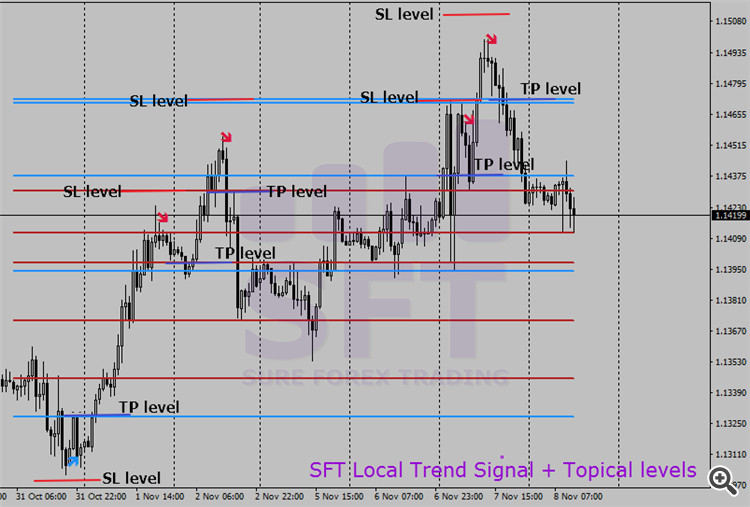 It is recommended to work with this strategy only with reliable and proven brokers. Who have no problems with the withdrawal of funds.
It is also desirable that ECN has accounts with a low spread and a low commission per transaction.
Before you decide to open a trading account, be sure to read online reviews about your broker.
Well, if you have difficulties with choosing a company, then in my blog you can find brokers with whom I personally work .
These companies can be trusted; for more than seven years of experience working with them, no problems have arisen.
Always adequate trading conditions, quality support and quick withdrawal.
Choose any of them: LIST HERE


Indicators and template
We wish you a stable and profitable trade!
To find out first about all new and bonus products.
And also receive various utility and chips on the topic of trading.
Subscribe to our free newsletter:

And do not forget to add as a friend: SURE FOREX TRADING


Thank you for using our software!

If you like it, then do a good deed and share the link with your friends.