During the day of active decline from the level of 1.0863, the pair EUR / USD lost about 1.8% (190 points). There is a small recovery in the opening of today's European session; however, the negative dynamics of the pair remains. This week, the most important macro data on the United States was published. The level of consumer confidence in the US in March reached a maximum in 16 years (125.6), surpassing the forecast of economists (114.0). Annual data on US GDP and price indices for the fourth quarter, published on Thursday, also proved very positive. GDP grew in the fourth quarter on updated data by 2.1%.
Today we are waiting for publication of important macroeconomic indicators for the USA, including inflation indices of personal consumption expenditure for February, from 15:30 to 17:00 (GMT + 3). However, gradually attention of investors is switching to the publication next Friday of data from the US labor market for March.
GDP growth, inflation dynamics and the labor market are key factors for the Fed in determining the need for and the rate of tightening (or easing) monetary policy in the US.
The US economy is recovering steadily after the crisis of 2007, and consumers are confident in the economic development of the country. Positive macro statistics coming from the US, as well as verbal intervention by the Fed representatives with regard to a further gradual increase in the interest rate in the US, contribute to the strengthening of the dollar.
On the part of the key representatives of the ECB, there are statements about the need to continue to maintain extra soft monetary policy in the Eurozone. The difference in monetary policy in the US and the Eurozone will continue to be the determining factor in the medium-term dynamics of the EUR / USD pair.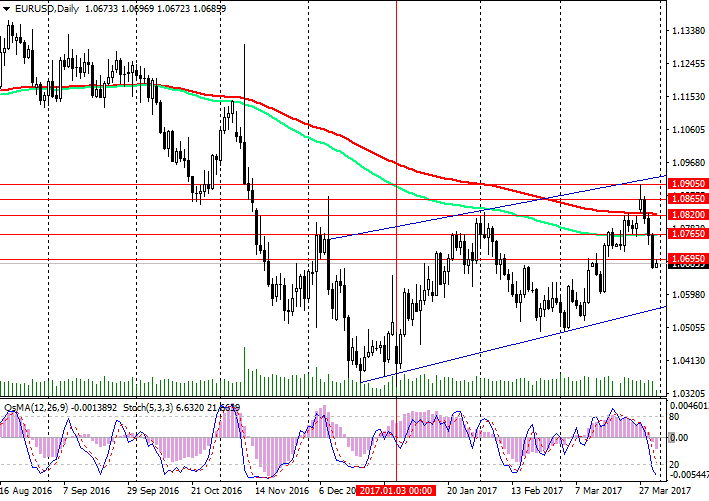 Support and resistance levels
The pair broke through the important support levels 1.0820 (EMA200 on the daily chart), 1.0765 (EMA200 on the 1-hour chart, EMA144 on the daily chart). At the beginning of today's European session, the pair EUR / USD is trying to stabilize at support level 1.0695 (EMA200 on the 4-hour chart). Bonding above this level will mean the EUR / USD pair's return to the upward correction trend, which began in January.
A further decline will mean the end of the upward correction and the EUR / USD pair's return to the downtrend with the targets of 1.0615, 1.0530, 1.0485, and 1.0350. Long positions can be considered only when the pair returns above the level of 1.0765.
If the EUR / USD pair returns to the zone above the level of 1.0820, you can return to the purchases with medium-term objectives of 1.0950, 1.1000. For now, the negative background for the EUR / USD pair prevails.
Support levels: 1.0695, 1.0675, 1.0615, 1.0530, 1.0485
Resistance levels: 1.0765, 1.0820, 1.0865, 1.0905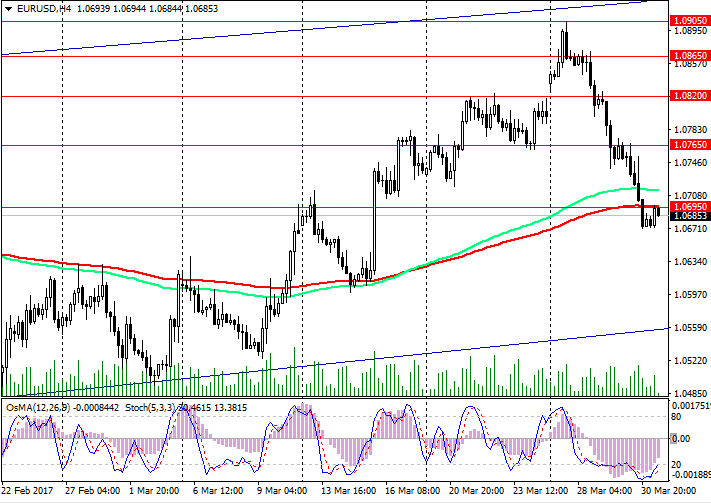 Trading Scenarios
Sell ​​Stop 1.0670. Stop-Loss 1.0720. Objectives 1.0615, 1.0530, 1.0485
Buy Stop. Stop-Loss 1.0670. Objectives 1.0765, 1.0820, 1.0865, 1.0890, 1.0905, 1.0940