Credit Agricole on the week ahead
After several months of market volatility and anxious observation of the pre-referendum polls, FX investors will finally have an answer to the question: Brexit or Bremain? Our central case still is that a Brexit will be avoided.
If confirmed next week, this could open the door for a relief rally in GBP, NOK, SEK as well as AUD, NZD and CAD. At the same time, safe haven currencies like JPY and CHF should retrace some of their recent gains. The balance of risks seems to favour a somewhat higher EUR but mainly against CHF and JPY. Given that the risk of a Brexit played a role in the recent Fed dovish shift, a Bremain vote could encourage some frontloading of rate hike expectations and help USD.
Needless to say, the risk of a Brexit will likely linger and may even grow in the run-up to the EU referendum, especially if we see an extension of the recent trends in the polls. FX market liquidity should deteriorate further as investors await the outcome of the vote before putting fresh bets on. We therefore remain very cautious on the outlook for risk in the very near-term. Indeed, growing risks of a Brexit have so far weighed disproportionately more on the European G10 currencies including the EUR. That said, the realization that the referendum could trigger a shock for global risk sentiment should lead to more AUD, CAD and NZD underperformance as well. Growing risk aversion should be positive for JPY although the threat of FX intervention could mute any future gains. The risk of a Brexit has already encouraged investors to pare Fed rate hike bets to 2018. With some negatives in the price already USD's superior liquidity should underscore its resilience against G10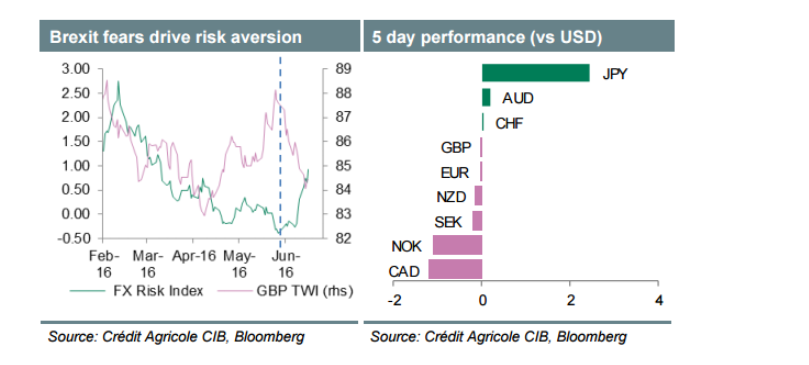 A potential Brexit will deal a massive blow to global risk sentiment and push GBP TWI closer to the lows last seen in the wake of the Lehman crisis. European and commodity G10 currencies will suffer as well, whereas USD and JPY emerge as the likely winners. More policy action by the BoJ should ultimately erode the demand for JPY, however.
Data releases ahead of the EU referendum include second tier data out of the US and the Eurozone as well as the Norges Bank's June meeting, all of which are less likely to have a sustained impact on the FX market.