The week is going to be a critical one for the market: we will see some high impacted news events which can move the market a lot:
2015-12-03 12:45 GMT | [EUR - Repo Rate]
2015-12-03 13:30 GMT | [EUR -

ECB Press Conference

]
2015-12-03 15:00 GMT | [USD -

Fed Chair Janet Yellen Yellen Speech

]
2015-12-04 13:30 GMT | [USD -

Non-Farm Employment Change

]
The analytics are not expecting any policy resolution made by the Fed this week, and Fed Chair Yellen will testify twice before Congress, and as we know - Non-Farm Employment Change news event will be on Friday this week. We should get a clear signal for this week about the following: whether the Fed will be hiked the rates on December 16.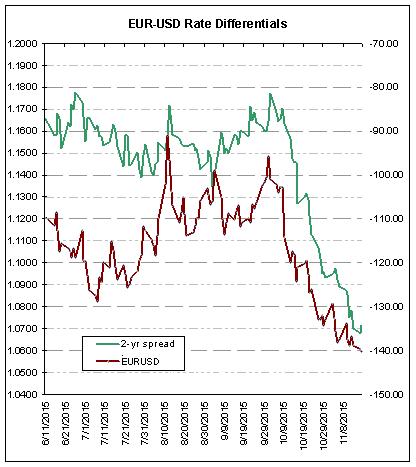 As we see from the chaft above - rate differentials is going to be continue in falling Euro interest and rising USD rates as we see by green line on the chart above, and the brown line is the value for EURUSD pair. This is the evidence for how responsive the for the key rates to be changed. Anyway, we should see period of policy stability in this case after the Fed and ECB make expected policy decisions in December.