According to the report submitted by the German institute GfK this morning, the leading index of sentiment in May is expected to grow to 10.2 points from 9.8 points in April (the forecast was 9.9).
The sub index of economic expectations in April rose to 30.5 points against 18.1 points in March, expectations in respect of consumer income in April rose to 57.5 points against 43.4 points a month earlier. The data presented demonstrate the growing confidence of German consumers in the state of their country's economy. This is important data, as the German economy is the locomotive of the entire European economy, and consumer spending is a significant part of Germany's GDP.
In response to the publication of such positive data, the euro rose shortly in the foreign exchange market. The pair EUR / USD jumped at the beginning of the European trading session to around 1.0917.
Nevertheless, the more significant growth of the EUR / USD pair before publication (at 11:45 GMT) of the ECB's decision on the interest rate is unlikely. The ECB's main interest rate is currently 0%, the deposit rate for commercial banks is negative and is -0.4%. In addition to the extremely low interest rates within the QE program, since early April the ECB has been planning to buy out European assets worth 60 billion euros a month. It is unlikely that the ECB will take any action on the eve of the second phase of the presidential elections in France, which will be held on May 7.
Nevertheless, if at a subsequent press conference, which starts at 00:30 pm (GMT), ECB President Mario Draghi will only hint at the possibility of considering the issue of curtailing the QE program in the Eurozone, the euro will strengthen sharply in the foreign exchange market, including And in the EUR / USD pair.
If Draghi strongly confirms the intentions of the ECB to continue to maintain an extra soft monetary policy, then the EUR / USD may fall back to support level 1.0800 (200-period moving average on the daily chart) today. The most likely scenario is that the EUR / USD pair will remain in the range between the levels of 1.0850, 1.0950 until May 7.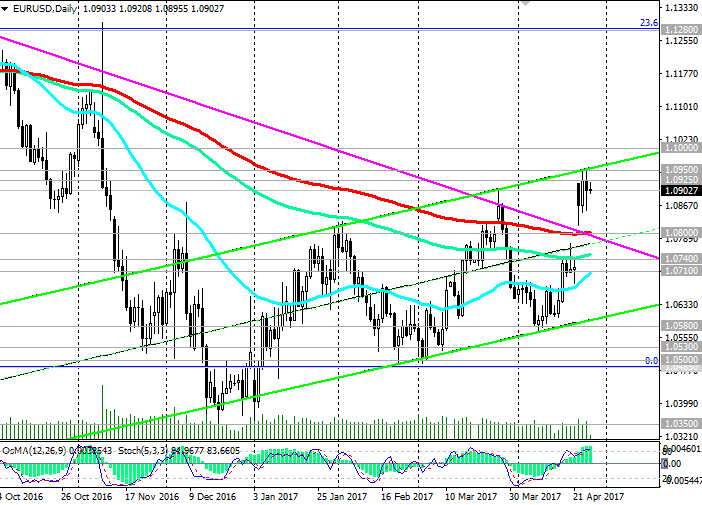 Support levels: 1.0800, 1.0740, 1.0710, 1.0685, 1.0580, 1.0530, 1.0500, 1.0485
Resistance levels: 1.0925, 1.0950