Author:
This is my final EA, 5 min chart is the best. I reccomend only EURUSD pair, but GBPUSD is good too. I have not checked every pair on forex market. I'm waiting for your opinion about this EA. And please try to help me write the most professional strategy based on Taichi & deMarker indicators. I invite you to my subject I set on the MQL forum: http://forum.mql4.com/13721 Let's build the most professional strategy together :))))))))))))))))))))))))))))))))))))

.

This EA based on deMarker (middle of moving averages) & Stochastic fast indicators. There are hidden stop loss and hidden take profit. The stop loss will be set on the system when min. take profit will be obtained. Try this one on real money not only demo account. Min. deposit = 3 000 PLN or 1 500 USD. I'm waiting for your opinion about this

machine ... and don't forget lern more in order to help me in building the better one EA...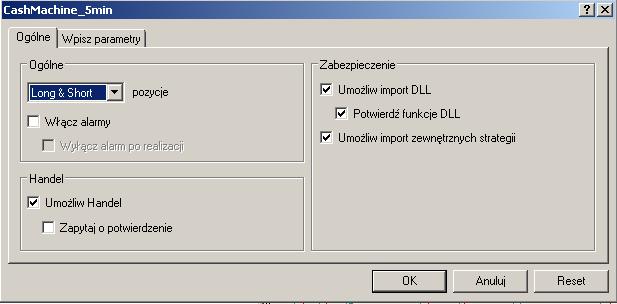 Recommendations:
Max Loss 30 pips

Max Time frame 5 MIN

EURUSD / GBPUSD
Strategy Tester Report
CashMachine_5min
XTrade-Server (Build 216)
Symbol
EURUSD (Euro vs US Dollar)
Okres
5 Minut (M5) 2008.02.20 15:45 - 2008.07.03 17:45
Model
Every tick (the most precise method based on all available least timeframes)
Parametry
hidden_TakeProfit=60; hidden_StopLoss=30; Lots=0.2; target_tp1=20; target_tp2=35; target_tp3=50; pidem=0; pidemu=14; pisto=0; pistok=5; pistod=3; istslow=3;


Słupki w tescie
27052
Ticks modelled
681376
Modelling quality
49.53%
Mismatched charts errors
2










Depozyt początkowy
1500.00








Total net profit
1528.14
Gross profit
6090.11
Gross loss
-4561.97
Profit factor
1.33
Przewidywany zysk
8.35




Absolute drawdown
523.09
Maximal drawdown
568.60 (15.88%)
Relative drawdown
35.56% (539.09)


Transakcji w sumie
183
Short positions (won %)
100 (29.00%)
Long positions (won %)
83 (69.88%)


Profit trades (% of total)
87 (47.54%)
Loss trades (% of total)
96 (52.46%)
Największy
profit trade
245.49
loss trade
-78.51
Średni
profit trade
70.00
loss trade
-47.52
Maksimum
consecutive wins (profit in money)
9 (704.16)
consecutive losses (loss in money)
10 (-403.02)
Maximal
consecutive profit (count of wins)
704.16 (9)
consecutive loss (count of losses)
-403.02 (10)
Średni
consecutive wins
2
consecutive losses
2

#
Czas
Typ
Zlecenie
Loty
Cena
S / L
T / P
Profit
Balance:
5123
2008.03.20 19:08
sell
40
0.20
1.5454
0.0000
0.0000


5124
2008.03.20 20:28
modify
40
0.20
1.5454
1.5467
1.5372


41770
2008.06.17 03:45
modify
164
0.20
1.5469
1.5483
1.5582


41771
2008.06.17 03:45
modify
164
0.20
1.5469
1.5486
1.5585


41772
2008.06.17 03:45
modify
164
0.20
1.5469
1.5488
1.5587


41773
2008.06.17 03:45
modify
164
0.20
1.5469
1.5487
1.5586


41774
2008.06.17 03:45
modify
164
0.20
1.5469
1.5490
1.5589


41775
2008.06.17 03:45
modify
164
0.20
1.5469
1.5489
1.5588


41776
2008.06.17 03:45
modify
164
0.20
1.5469
1.5491
1.5590


41777
2008.06.17 03:45
close
164
0.20
1.5530
1.5491
1.5590
122.00
3499.39
41778
2008.06.17 14:17
buy
165
0.20
1.5486
0.0000
0.0000


41779
2008.06.17 15:38
modify
165
0.20
1.5486
1.5500
1.5569


41780
2008.06.17 15:38
modify
165
0.20
1.5486
1.5499
1.5568


41781
2008.06.17 15:42
s/l
165
0.20
1.5499
1.5499
1.5568
26.00
3525.39