Idea by: Apelsin
mq5 code by: barabashkakvn
The EA uses a very simple neural network unit
   

double

 n1=((ma_h1[

1

]-ma_h1[

2

])/ma_h1[

1

])*p1+((ma_h1[

2

]-ma_h1[

3

])/ma_h1[

3

])*p2+((ma_h1[

3

]-ma_h1[

4

])/ma_h1[

4

])*p3;
   n1=(

MathRound

(n1*

10000

));

   

double

 n2=((ma_h4[

1

]-ma_h4[

2

])/ma_h4[

2

])*q1+((ma_h4[

2

]-ma_h4[

3

])/ma_h4[

3

])*q2+((ma_h4[

3

]-ma_h4[

4

])/ma_h4[

4

])*q3;
   n2=(

MathRound

(n2*

10000

));

   

double

 n3=((ma_d1[

1

]-ma_d1[

2

])/ma_d1[

2

])*k1+((ma_d1[

2

]-ma_d1[

3

])/ma_d1[

3

])*k2+((ma_d1[

3

]-ma_d1[

4

])/ma_d1[

4

])*k3;
   n3=(

MathRound

(n3*

10000

));

   

if

((n1>

0

 && n2>

0

 && n3>

0

))
      m_need_open_buy=

true

;
   

if

((n1>

0

 && n2<

0

 && n3<

0

))
      m_need_open_sell=

true

;

based on the signals from three indicators iMA (Moving Average, MA) on H1, H4, and D1.
Recommendations on Optimization
Optimization is performed in two stages (1 and 2 in the picture below).
After stages one and two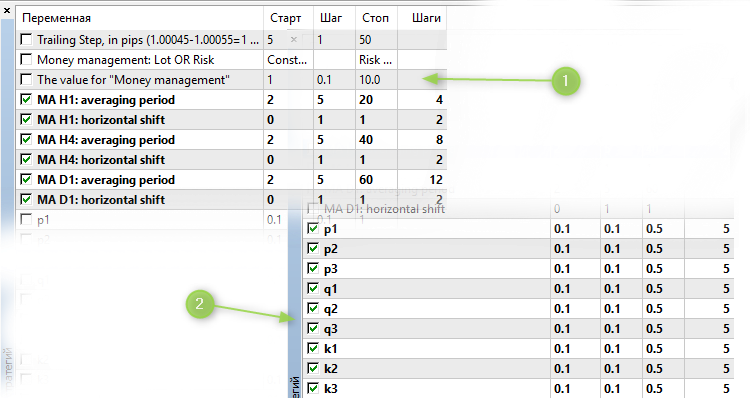 select among the top ten ones the version that provides equally good results on both backtest and forward.