Different traders have different rules for determining whether or not a pattern is worth trading. Many theories exist, we shall not go through each of them here. The indicator adopts a "holistic" matching approach checking if each pattern ratio is within acceptable bounds set by a slack setting. However due to feedback from users, it is now possible to filter out patterns and projections where the potential reversal zone only consists of slack. A different, independent filtration method allows to filter out patterns that complete too early or too late based on measurements of the duration of the X-B segment compared to the B-D segment, or A-B to C-D for ABCD patterns.
Does this not suit your needs? Well if you know how to code then it is possible to write custom "filtration" rules, as explained below.
Statistical data

Based on the history of the current instrument, the indicator will remember which and how often a pattern fails or succeeds to reverse in the PRZ. This information can be gleaned in the comment box, which shows messages such as "F. Bear. New Cypher Prob. 60.00 (6 S / 4 F)". The first letter merely asserts whether or not the pattern has recently been clicked (F.), failed (O.), succeeded (P.), or tested the PRZ (T.). Next comes the direction and pattern name, before the statistical reversal chance is shown, in this case 60%. This is calculated from the history which has 6 successes and 4 failures of the pattern, shown if double clicking it. But by all means, keep in mind that past performance does not necessarily predict future results :)
Customizing the indicator

As stated, the indicator is extensively refactored and takes into account MQL5's object oriented features such as classes and interfaces. The indicator now consists of multiple files and has the architecture shown in the following UML diagram.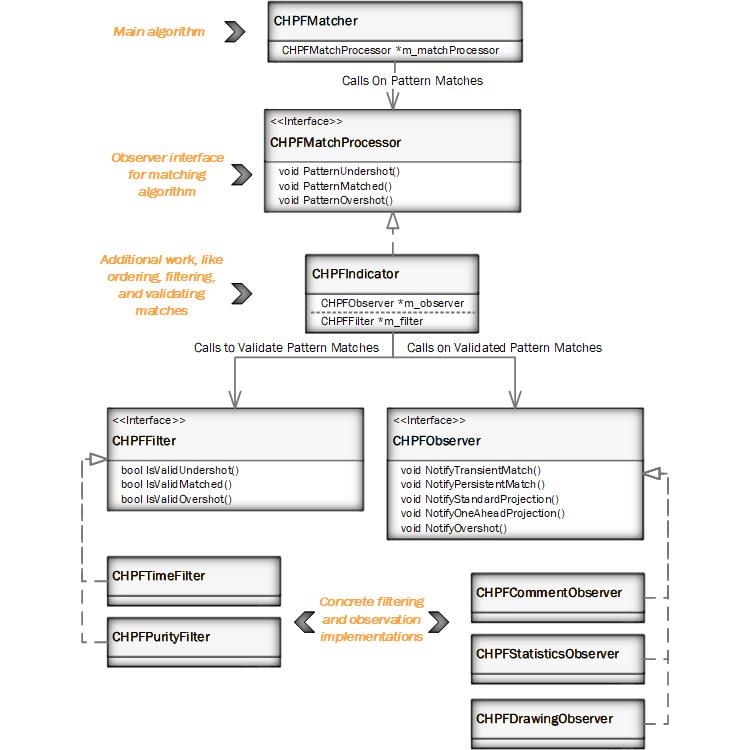 Do you want to create an EA? Well then you can implement an own "CHPFMatchProcessor", give it to the matching algorithm, and call it like the indicator currently does, which is to feed it the zigzag arrays and wait for responses. The matching algorithm will call the match-processor for each match found in the zigzag data, determining if a pattern is matched, overshot, or undershot (projected). This is what must be passed on to EA logic.
Need custom filtration or observation rules? A filtration would be to for example ignore patterns where the RSI isn't right or the XA segment is too straight. Then it should be as easy as writing an implementation of the "CHPFFilter" interface and plug it into the list of filters; the current time and purity filters are explanatory. An observation rule would for example be to send a push message or sound an alert whenever a pattern is matched. This can be accomplished in a similar way by implementing the "CHPFObserver" interface.