Interesting script?
So post a
link
to it -
let others appraise it

Smoothed Kijun-Sen - indicator for MetaTrader 5
Views:

8855

Rating:

votes: 23

Published:

2018.02.08 10:24
You are missing trading opportunities:

Free trading apps
Free Forex VPS for 24 hours
Over 8,000 signals for copying
Economic news for exploring financial markets

If you do not have an account, please

register
The Kijun-Sen is a major indicator line and component of the Ichimoku Kinko Hyo indicator, also known as the Ichimoku cloud. It is generally used as a metric for medium-term momentum. The Kijun-Sen line calculation utilizes the following formula:

The formula used to calculate the Kijun-Sen is almost identical to that of the formula used to calculate the Tenkan-Sen line. It differs in that the quantity of time periods used in the calculation is increased so long-term momentum can more effectively be gauged.
This version of Kijun-Sen adds one option not known in the original Kijun-Sen indicator - smoothing. The smoothing is done not by smoothing the result, but by smoothing the prices prior to being used for calculation. Hence the lag is lessened and the result is still smoother. That way some possible fake signals are filtered out.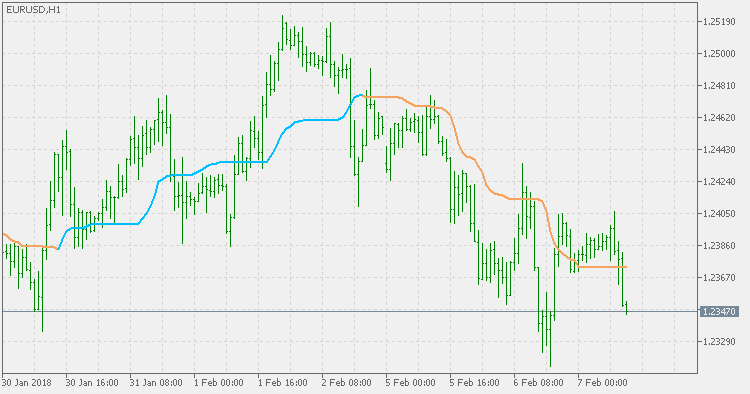 PS: in order to have the original Kijun-Sen value, set the smoothing period to less than or equal to 1. In that case, no smoothing is performed, and the values are the same as the original Kijun-Sen.

CCI alternative
Commodity Channel Index (CCI) is a versatile indicator that can be used to identify a new trend or warn of extreme conditions. Donald Lambert originally developed CCI to identify cyclical turns in commodities, but the indicator can be successfully applied to indices, ETFs, stocks, and other securities.

Volume Rate of Change
The Volume Rate of Change indicator (VROC) measures the rate of change in volume over the past "n" sessions. In other words, the VROC measures the current volume by comparing it to the volume "n" periods or sessions ago.

MACD DEMA
MACD that is using DEMA fo calculation.

MACD TEMA
MACD TEMA is even a bit more "faster" than MACD DEMA so, depending on the parameters, in scalping mode (short calculating periods) or trending mode (when longer periods are used. Never forget that MACD is primarily a momentum indicator and that it is the main goal of MACD.