One of the most important support and resistance levels using Market Profile Theory.
VERSIONS: Metatrader 4
Be part of our premium trading club!
Clever trading club, where we share novel ways to win with our indicators and update our tools constantly, so they adapt everytime to changing market conditions.

Our club is made up of profitable traders, trading in multiple assets, and willing to share their knowledge through easy to understand indicators and robots.

A lot of satisfied customers, who share positive reviews and keep coming back.

We have a complete set of channels, in which we provide support to our club members, and in which we share real uses of our indicators.

Get one of the most important market maker levels, in which the price could react and show the real trend of a given financial asset.
The indicator uses market profile theory to show the auction level on a user specified time basis. The Auction level is a key market level, that gives a trend bias, depending on the location of an asset's price, in relation to such market level.
How is this indicator useful?
It will allow you to have a reference of the most important trading zones for the specified period, as well as those prior to it.
It will allow you to trade retracement or breakout patterns, everytime they occur, in a given zone.
Identify potential resistance or support levels. Be mindful that you can use these levels as take profit zones.
Use the arrows signals to enter to market with a reliable pattern.

EXAMPLE OF USE
The indicator has the following components:
Chart Lines: Signal the Auction level, a very important Support and resistance level.
Arrows: Signal some possible entry opportunities.
Histogram: Shows the

current market's

trend bias.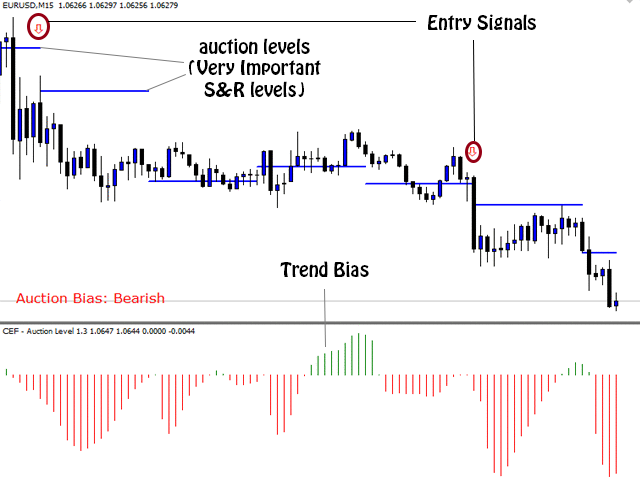 Buy Opportunities Strategy
Looks for Bullish Bias.
The price has to be higher than the auction Level.
Looks for buy entries (buy arrows, reversal patterns on auction levels, and other triggers based on your own strategy).