Is AUDUSD 1H keep going UP or Reverse on Fib? Let's read the market.
1. Highest volume wave of the last 13 days.
2. Fib Area 1 reached and found sellers SIs:21.9 and 21.8
3. First Bearish wave with volume, but
4. Fib Area 2 reached
5. Immediate bullish reaction on Fib Area 2 with similar volume as 3.
Therefore there are still buyers , most probably it will not respect the Fib Area 1 and will continue going up , but we need see it break the 61 Fib and watch the next waves (volumes and SIs)
to be continued....
***Don't forget to "Like" if you like***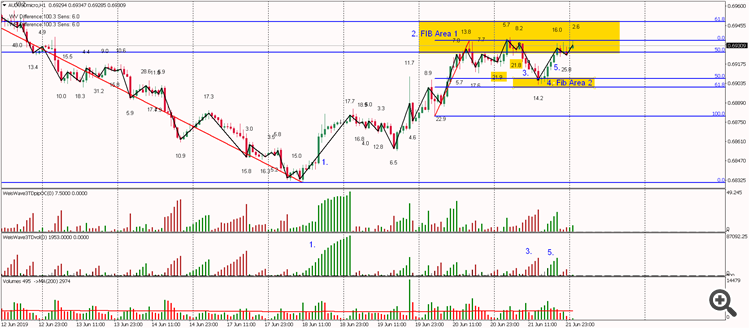 Forecasted Correct and we went up 40 pips above 61 Fib. We are in a dangerous area now - look left on your chart.

***Don't forget to "Like" if you like***