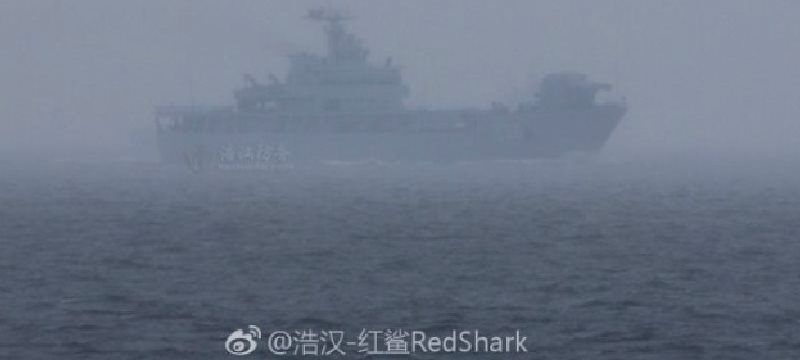 Does China have an electronicmagnetic Railgun?
The Yen soared around 10.00am AEST today as a closely followed China defence blogger posted a picture on his Weibo account showing a picture of a Chinese war ship with what looks like an Electronmagnetic Railgun. The report is significant as US and China trade tensions remain high and if the Railgun is operational then it would mean China have beaten the USA to the party on Railgun technology.
The ABC reports that the USA have been pursuing Railgun technology since 2005 but is yet to launch any Railgun weapons on its warships. As I mentioned in a Live Train With Andrew Facebook stream earlier today if it is a Railgun the market will want China to confirm or deny what is perched on the bow of one of its war ships. ABC Australia has had the story on its website for over an hour before CNBC and Bloomberg reported the story and when they did they said the Yen spike was a FLASH CRASH.
Financial markets were concerned late in 2018 that China and US growth may slow in 2019 and Wednesday's release of a private China manufacturing survey showed contraction has occurred in the Chinese manufacturing sector for the first time in 19 months.
The moment the China manufacturing numbers were released on Wednesday traders were selling the Aussie and Kiwi Dollars along with emerging market currencies with the Yen being the major safe haven gainer as markets once again got nervous. The AUD v USD in the US trading session dipped below 0.70c for the first time in 35 months and if bear market conditions persist on US stock indexes and confirmation that US growth is slowing my longer-term prediction is the AUD v USD will reach its 2008 GFC lows of 0.62c in 2019. If China's growth continues to slow without an injection of Chinese government stimulus Australia in my opinion may have a recession in the second half of this year or early 2020. Australia is so heavily reliant on China and if commodity prices dive lower on weaker demand Australia is going to feel the pinch. Sydney and Melbourne housing prices will continue to decline and if you are patient and in a position to enter the property and stock market in the coming 2 – 5 years with a long-term approach there are going to be some great value for money buys.