According to the research company IHS Markit, published today, the index of supply managers (PMI) for the UK services sector in April was 52.8 (against 51.7 in March and the forecast of 53.5). A value above 50 indicates an increase in activity. Nevertheless, the PMI index of the services sector was another signal that the growth of the British economy at the beginning of the second quarter was restrained.
Earlier in the week, other disappointing macro data were published, pointing to the weak growth of the UK economy in April. So, the PMI index for the manufacturing sector, published on Tuesday, was the lowest for 17 months (53.9 against 54.8 on forecast and 54.9 in March).
As reported by the National Bureau of Statistics of Great Britain last week, the gross domestic product in the 1st quarter grew by 0.1% compared to the previous quarter, or 1.2% on an annualized basis (forecast was + 0.3% and +1 , 4%, respectively). Data suggest that GDP growth has slowed significantly; The UK economy in the first quarter of 2018 grew at a slower pace in more than five years.
Also worse than expected was the index of business activity in the service sector, the leading branch of the British economy, which accounts for the bulk of the country's GDP (+ 0.4% vs. 0.6% + 0.6% in February).
Low growth rates of the British economy reduce the likelihood of an increase in the key interest rate at the May meeting of the Bank of England, which will take place next week (May 10).
Against the backdrop of weak macro statistics, investors came to the conclusion that the rate hike could be postponed. Uncertainty about future ties between the UK and the EU persists, and economic data indicate a weak start this year. The head of the Bank of England, Mark Carney, last month said that economic data indicate a weak beginning of the year and markets should not expect a rate hike in May.
The Fed meeting ended on Wednesday, on the contrary, pointed to the determination of the Fed and further to gradually raise the interest rate. In the comments to this decision, the central bank's leaders noted the acceleration of inflation in the US. The Fed's preferred inflation indicator, the price index for personal consumption expenditure (PCE), in March showed an annual growth of 2%.
The dollar strengthened after the Fed meeting, and, despite its today's corrective decline, the dollar is likely to grow further, including against the pound.
"A too slow increase in rates will lead to the need to sharply tighten monetary policy at some point, jeopardizing GDP growth", Fed Chairman Jerome Powell said last month .The rise in inflation pressures could still force the Fed to tighten monetary policy faster pace, and this is a strong fundamental factor in favor of further strengthening of the dollar.
*)An advanced fundamental analysis is available on the Tifia Forex Broker website at tifia.com/analytics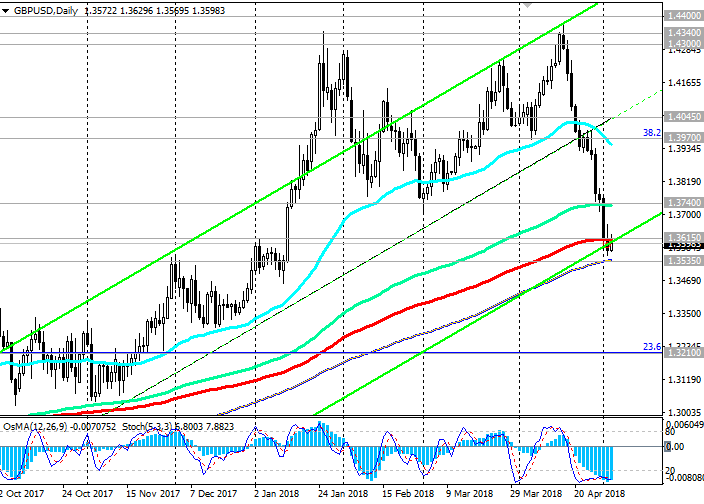 Support levels: 1.3600, 1.3535, 1.3400, 1.3210
Resistance levels: 1.3615, 1.3740, 1.3800, 1.3970, 1.4045, 1.4100, 1.4190, 1.4300, 1.4340, 1.4400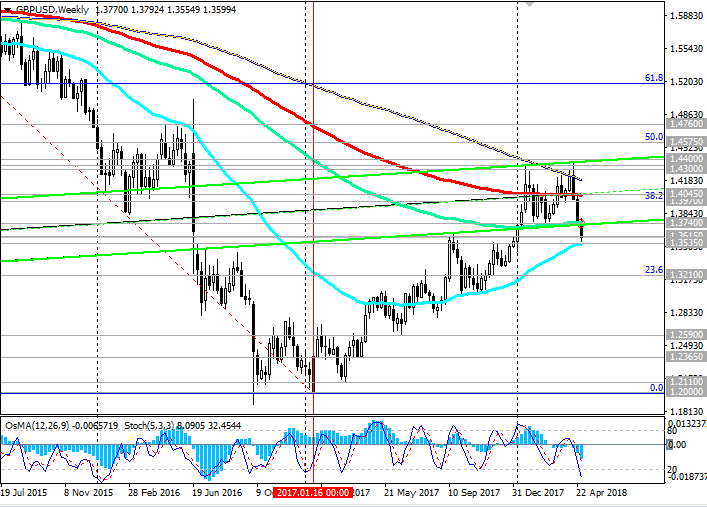 Trading Scenarios
Buy Stop 1.3640. Stop-Loss 1.3550. Take-Profit 1.3700, 1.3740, 1.3800, 1.3970, 1.4045, 1.4100, 1.4190, 1.4300, 1.4340, 1.4400
Sell ​​Stop 1.3550. Stop-Loss 1.3640. Take-Profit 1.3500, 1.3400, 1.3300, 1.3210
*) For up-to-date and detailed analytics and news on the forex market visit Tifia Forex Broker website tifia.com