After the RBA kept the interest rate at the current level of 1.5% at the beginning of the month, the Australian dollar strengthened its decline. In the accompanying statement of the RBA it was stated that "interest rates correspond to the goals in relation to GDP, inflation. Low rates support the Australian economy, and a higher rate of the Australian dollar will slow the economic recovery".
RBA Governor Philip Lowe reiterated that, in the opinion of the board, "it is advisable to leave monetary policy unchanged at this meeting in order to maintain a stable growth of the economy and achieve a target inflation rate over time". The AUD / USD reached its June lows near the 0.7500 mark.
Nevertheless, the AUD / USD subsequently increased, and the past week was one of the best in terms of growth since July, mainly due to the weakening of the US dollar.
The Australian dollar also received support from positive data from the Australian labor market, published on Thursday. According to the data, the unemployment rate in Australia in November was 5.4%, while the number of jobs increased by 61600 after rising by 7800 in October (the forecast was +18000 new jobs).
Tomorrow (00:30 GMT) the minutes of the December meeting of the Reserve Bank of Australia will be published. The minutes are published two weeks after the decision on the interest rate. It will present a report on the current state of the Australian economy with details of the decision on the rates. If the RBA shows a "hawkish" attitude toward the inflation forecast in the economy, the markets view this as a higher probability of a rate hike, which is a positive factor for the AUD. The soft tone of the protocol and the propensity to continue carrying out a soft monetary policy will help to weaken the Australian currency.
At the same time, the Fed implemented a third increase in short-term interest rates in December and signaled that next year it will follow a similar course and intends to implement three rate increases of 0.25% each time.
Thus, a different focus of monetary policy in Australia and the US will further reduce AUD / USD in the medium term.
*)An advanced fundamental analysis is available on the Tifia Forex Broker website at tifia.com/analytics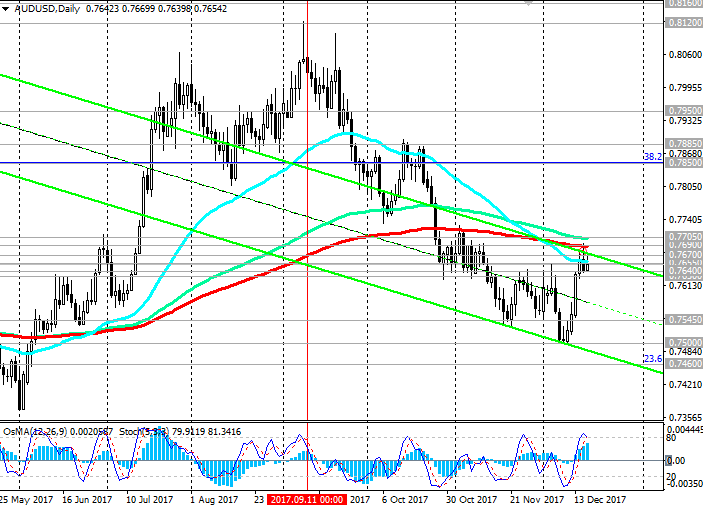 Support levels: 0.7640, 0.7630, 0.7600, 0.7545, 0.7500, 0.7460
Resistance levels: 0.7655, 0.7670, 0.7690, 0.7705, 0.7740, 0.7800, 0.7850, 0.7885, 0.7950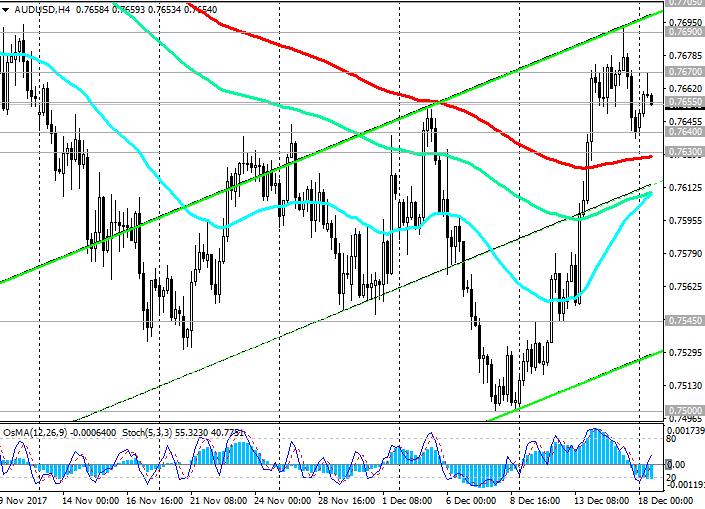 Trading Scenarios
Sell in the market. Stop-Loss 0.7675. Take-Profit 0.7630, 0.7600, 0.7545, 0.7500, 0.7460
Buy Stop 0.7675. Stop-Loss 0.7620. Take-Profit 0.7690, 0.7705, 0.7740, 0.7800, 0.7850, 0.7885, 0.7950
*) For up-to-date and detailed analytics and news on the forex market visit Tifia Forex Broker website tifia.com