Hello, friends. Some time ago I promised to buyers of my Color Trend FX indicator to make an EA that trades by its signals.

Today I want to present to your attention the first version of the Color Trend EA.
This is only the first version of the EA. In the next versions, I plan to add more filters and possibilities for your comfortable work.
Indicator's Dashboard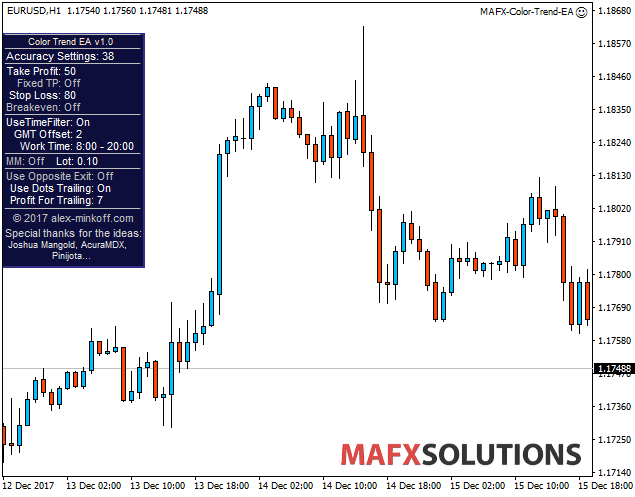 The EA will work in tandem with the Color Trend FX indicator, but the indicator could not be put on the chart. The EA will take the indicator signals and to display them on a price chart.
The Color Trend EA opens positions according to the indicator signals that only appear at the close of the bar. This made it possible to use the model "Open prices only", which greatly simplified the process of testing and optimizing the EA.

The first tests of the first version of the Color Trend EA (Constant Lot 0.1)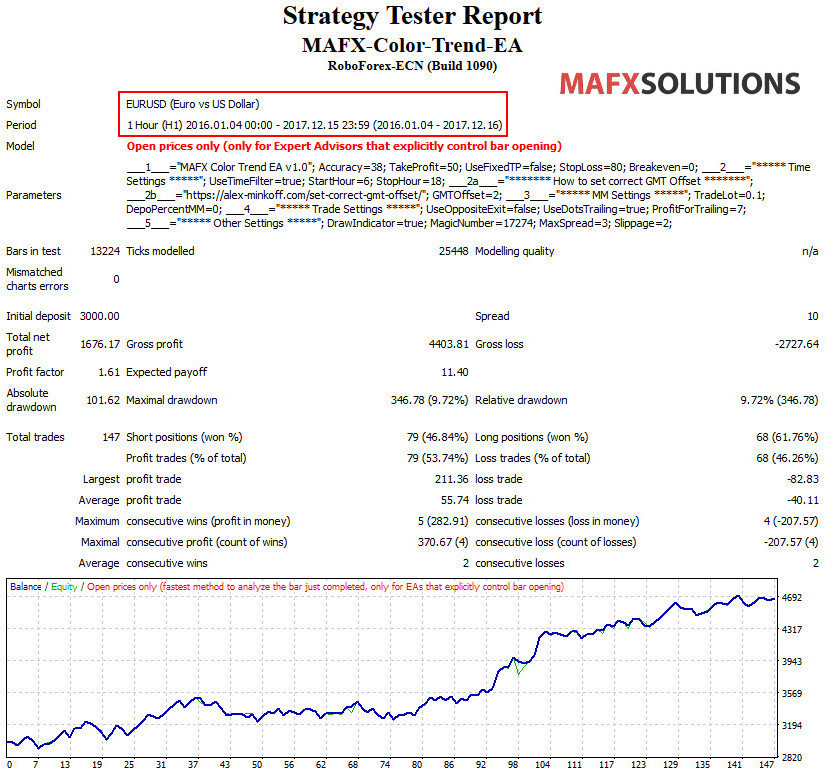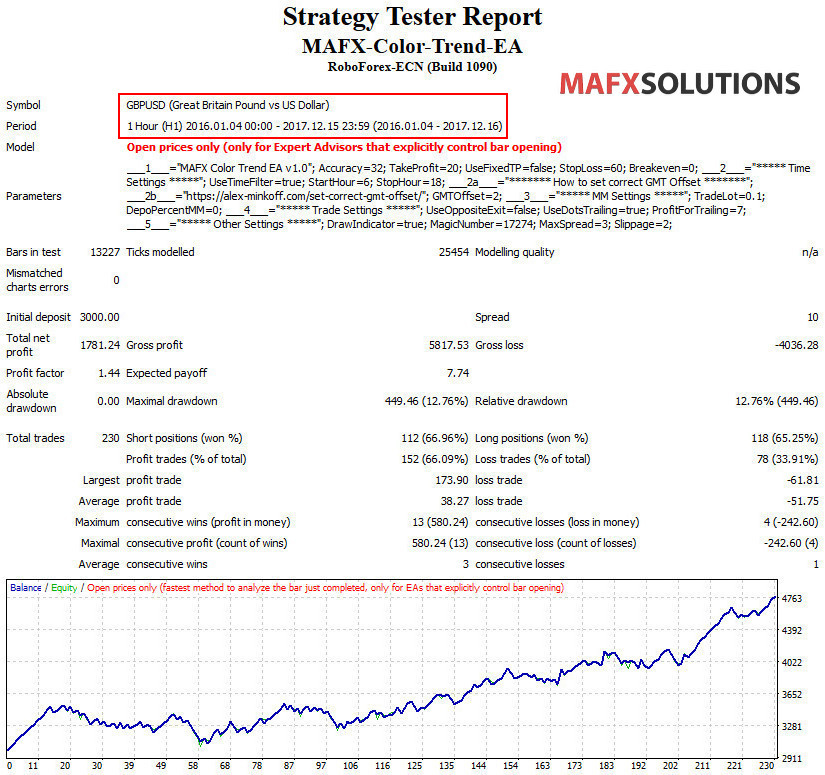 Indicator Settings

Accuracy Settings - the accuracy of entry filter. The lower the value, the more "noise" in signals. If a value is too large, the signal may be lagging.

Take Profit - Take Profit in Pips.
Use Fixed TP - Tricky variable. Now explain in detail.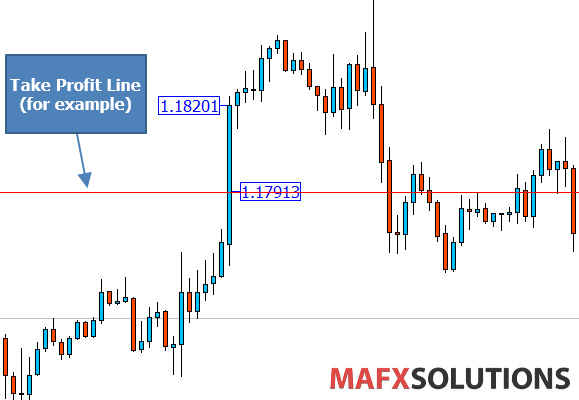 If Use Fixed TP = true then the profit level will be set when opening an order (1.17913).
But if Use Fixed TP = false then the profit level is controlled by the EA, and the profit is fixed at the closing price of the bar that closed above the profit level (1.18201 at the screenshot above).
Stop Loss - Stop Loss in Pips.
Breakeven (0 - Disabled) - Breakeven in Pips.
Time Settings
UseTimeFilter - Use Time Filter (true/false).
StartHour and StopHour - The hours of the beginning and end of the EA working.
GMT Offset - GMT Offset. How to set correct GMT Offset see here.
MM Settings
Trade Lot - Trade lot, if Depo Percent = false

Activate Depo Percent (if = 0 then Off)
Trade Settings
Opposite Signal Close a Position
Use Indicator Dots for Trailing - (true/false).

Minimal Profit in Pips for Trailing Activation - In Pips.
Other Settings

Draw Indicator Dots - true/false.
Magic Number - The unique number for correct operation of the EA on multiple pairs simultaneously.

Max Spread - The maximum possible spread for the trade.
Slippage - Slippage in Pips.


While that's all. Please download and test the EA. I'm waiting for your comments and feedback. Then we will continue to work to improve the EA further. You're Welcome!