Weak data on the growth of wages in Australia, as well as on the level of consumer confidence, published at the beginning of today's Asian trading session, "knocked" the Australian dollar, which fell 4-month low against the US dollar.
According to data provided on Wednesday, wage growth in the 3rd quarter was 0.5% compared to the previous quarter (the forecast was + 0.7%).
The Australian dollar remained today almost the only major world currency, declining against the US dollar. And so far, the fundamental background for the Australian dollar remains negative.
We are waiting for data from the USA today. It is expected that the growth in retail sales in October was 0% (against growth of 1.6% in September). The consumer price index, which is a key indicator for estimating inflation and changing consumer preferences, is also expected with a value just above 0 (+ 0.1%).
These are very weak values. If the weak data on inflation in the US are confirmed, the US dollar will continue to decline. In this case, an upward correction in the AUD/USD is likely.
Recall that the publication of macro data from the United States is scheduled for 13:30 (GMT).
*)An advanced fundamental analysis is available on the Tifia Forex Broker website at tifia.com/analytics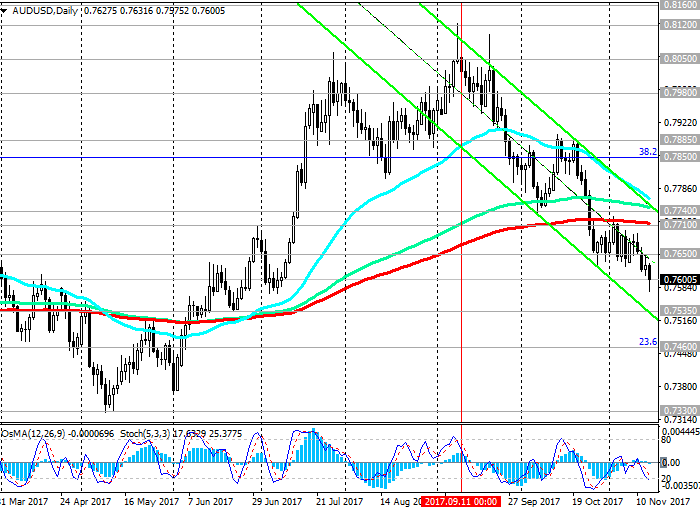 Support and resistance levels
AUD / USD continues to decline in the downward channel on the daily chart, the lower limit of which runs near the support level of 0.7535 (balance line and EMA200 on the daily chart in April 2017).
AUD / USD is below the key resistance levels 0.7710 (EMA200 on the daily chart), 0.7740 (EMA144 and the top line of the descending channel on the daily chart).
Downward dynamics prevails. Indicators OsMA and Stochastics on the 4-hour, daily, weekly and monthly charts are on the side of sellers.
In the event of further downside, the targets will be support levels of 0.7535, 0.7460 (Fibonacci level of 23.6% correction to the wave of decline of the pair since July 2014; the minimum of the wave is near 0.6830 level). The breakdown of the support level of 0.7460 will return the AUD / USD into a global downtrend that began in July 2014.
You can proceed to consideration of long positions only after AUD / USD returns to the zone above the resistance level 0.7740 (EMA200 on the 4-hour chart, EMA144 and the top line of the descending channel on the daily chart). The growth targets in this case will be the levels of 0.7850 (Fibonacci level 38.2%), 0.7885 (October highs), 0.7980 (EMA200 on the weekly chart).
Support levels: 0.7600, 0.7535, 0.7500, 0.7460
Resistance levels: 0.7650, 0.7710, 0.7740, 0.7800, 0.7850, 0.7885, 0.7980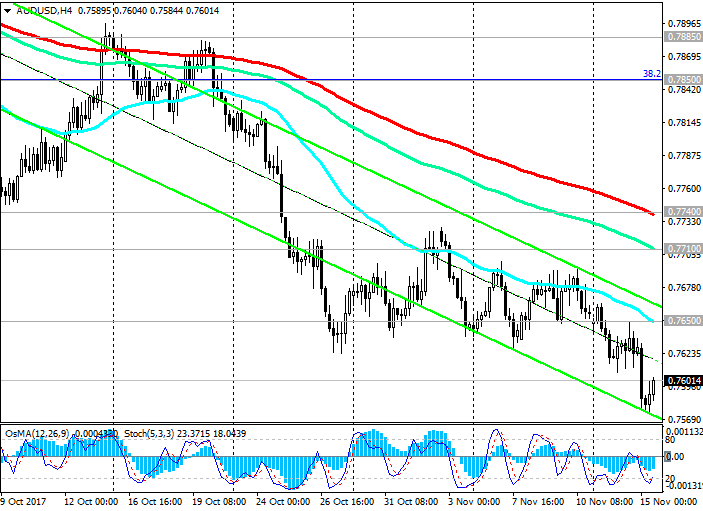 Trading Scenarios
Sell in the market. Stop-Loss 0.7660. Take-Profit 0.7580, 0.7535, 0.7500, 0.7460
Buy Stop 0.7660. Stop-Loss 0.7590. Take-Profit 0.7710, 0.7740, 0.7800, 0.7850, 0.7885, 0.7980
*) For up-to-date and detailed analytics and news on the forex market visit Tifia Forex Broker website tifia.com