After the data on inflation in the UK were released at the beginning of today's European session, the pound declined.
According to the British Office of National Statistics, inflation in the UK in October was 3% (forecast was + 3.1%), which indicates the possible end of a sharp acceleration in price growth caused by the collapse of the British pound after last year's referendum on UK membership in the EU.
Core inflation also failed to reach the forecast of 2.9%, amounting, as in September, 2.7%.
Nevertheless, inflation is still much higher than the target level of the Bank of England, which is 2%. At the same time, prices are growing faster than a salary, which means that consumer spending will remain low-key.
This is a negative factor for the pound and the country's economy, which focuses on domestic consumption.
The pound continues to remain under pressure also against the backdrop of the crisis that is ripening in the UK government. As you know, several dozen members of the British Parliament favored the resignation of Prime Minister Theresa May. At the weekend, the Sunday Times reported that 40 parliamentarians agreed to sign a letter of no confidence in Theresa May. The Brexit talks resumed last week, and, according to EU officials, Britain's hopes for the progress of negotiations in December are weakening.
Thus, the problems in the negotiations of the UK with the EU on Brexit, political uncertainty in the country, based on growing dissatisfaction with the activities of the Prime Minister of the UK, as well as the Bank of England's restrained attitude to the issue of further tightening of monetary policy (as is known earlier this month, the Bank of England decided to raise the key interest rate by 0.25% and planned two more rate hikes in the next two years) create a negative background for the pound. To this, it should be added that last week the European Commission lowered its forecast for GDP growth in the UK this year, including, due to a weak increase in investment in the UK economy against the background of Brexit.
At the same time, the dollar is recovering today. As it became known, the administration of President Trump will not support the law on taxes, if it provides for a corporate tax rate of over 20%. This was announced the day before by US Treasury Secretary Stephen Mnuchin.
*)An advanced fundamental analysis is available on the Tifia Forex Broker website at tifia.com/analytics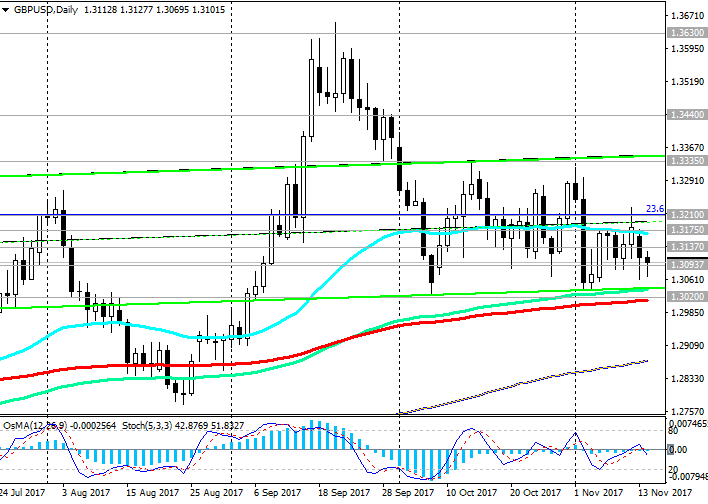 Support levels: 1.3065, 1.3020, 1.2975, 1.2590, 1.2365, 1.2110, 1.2000
Resistance levels: 1.3100, 1.3137, 1.3175, 1.3210, 1.3300, 1.3335, 1.3440, 1.3500, 1.3630, 1.3760, 1.3970, 1.4100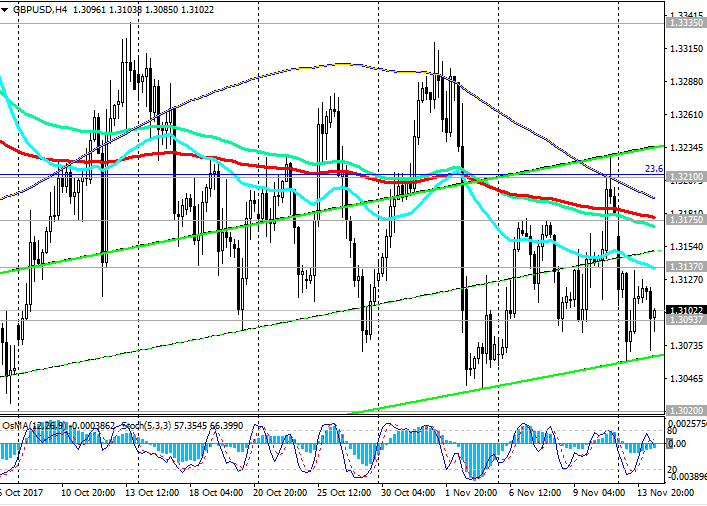 Trading scenarios
Sell in the market. Stop-Loss 1.3125. Take-Profit 1.3065, 1.3020, 1.2975, 1.2590, 1.2365, 1.2110, 1.2000
Buy Stop 1.3125. Stop-Loss 1.3080. Take-Profit 1.3137, 1.3175, 1.3210, 1.3300, 1.3335, 1.3440, 1.3500, 1.3630, 1.3760, 1.3970, 1.4100
*) For up-to-date and detailed analytics and news on the forex market visit Tifia Forex Broker website tifia.com