Tomorrow at 04:30 (GMT), the RB of Australia publishes an interest rate decision. It is widely expected that the rate will remain at the same level of 1.5%. The growing Australian dollar is not profitable for the recovery of the Australian economy, whose GDP growth rates in the first quarter have already slowed.
Last week was marked by the fact that representatives of the Bank of England, Bank of Canada and the ECB signaled a tendency to tighten monetary and credit policy. However, the RBA is unlikely to follow in the footsteps of the Bank of England, the Bank of Canada and the ECB.
And yet, even a slight hint of the RBA Governor Philip Lowe on the positive state of the Australian labor market and the Australian economy could trigger the growth of the Australian dollar. In this case, amid weakening expectations of an increase in the rate from the Fed, the pair AUD / USD could rush to the level of 0.8000.
Conversely, the soft tone of the RBA's accompanying statement will help to weaken the AUD and lower the AUD / USD.
*)An advanced fundamental analysis is available on the Tifia website at tifia.com/analytics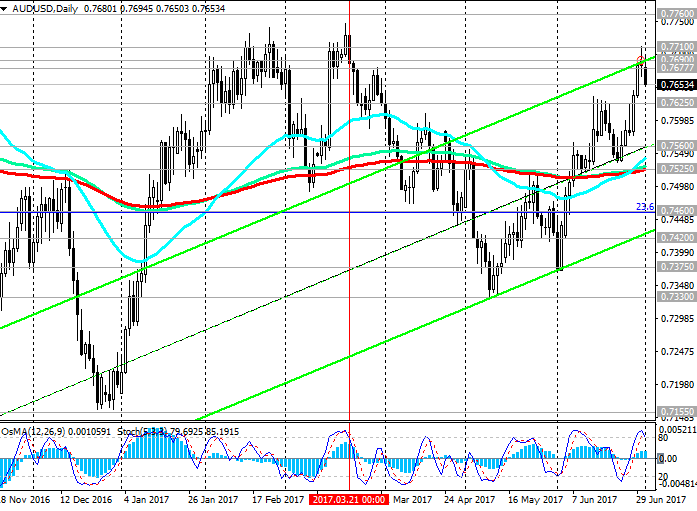 Support and resistance levels
The AUD / USD pair remains positive dynamics, trading in the upward channels on the 4-hour, daily, weekly charts.
The OsMA and Stochastic indicators on the daily, weekly charts are on the buyers' side.
However, it's worth noting that on the 1-hour, 4-hour chart, the OsMA and Stochastics indicators went to the sellers' line, signaling the beginning of a downward correction.
The correction targets are support levels of 0.7625 (EMA200 on the 1-hour chart), 0.7560 (EMA200 on the 4-hour chart).
In case of breakdown of the level of 0.7560, further decrease to the key support level of 0.7525 (EMA200, EMA144 on the daily chart) is possible. The targets in case of further decline of the pair will be the levels of 0.7460 (the Fibonacci level of 23.6% of the correction to the wave of decline of the pair from July 2014, the minimum of the wave is near 0.6830), 0.7420, 0.7375, 0.7330 (November and May lows).
The breakdown of the support level of 0.7330 will call into question the uptrend of the pair AUD / USD.
If the pair AUD / USD maintains its positive dynamics, after its return to the zone above the level of 0.7690 (the upper line of the rising channel on the daily chart), its growth will continue with the targets 0.7710, 0.7760 (EMA144 on the weekly chart), 0.7840 (Fibonacci level 38.2%), 0.8000 (EMA200 and the upper line of the ascending channel on the weekly chart).
Support levels: 0.7625, 0.7560, 0.7525, 0.7460, 0.7445, 0.7420, 0.7375, 0.7330
Resistance levels: 0.7690, 0.7710, 0.7760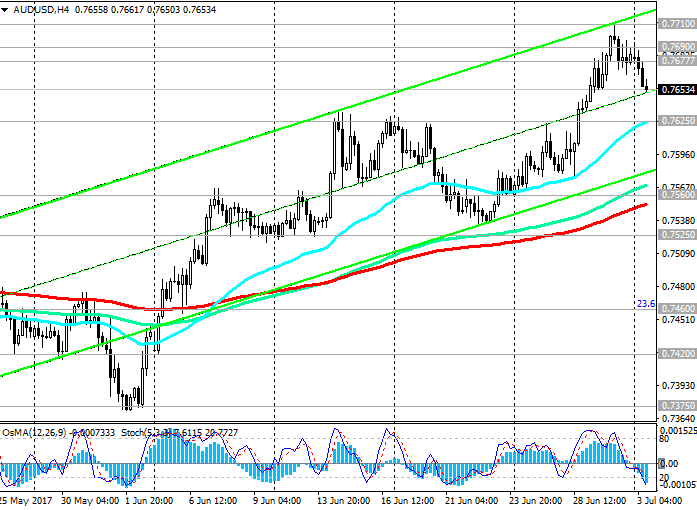 Trading Scenarios
Sell ​​on the market. Stop-Loss 0.7680. Take-Profit: 0.7625, 0.7560, 0.7525, 0.7460, 0.7445, 0.7420
Buy Stop 0.7680. Stop-Loss 0.7570. Take-Profit 0.7690, 0.7710, 0.7760, 0.8000
*) For up-to-date and detailed analytics and news on the forex market visit Tifia company website tifia.com