The US dollar as a whole is declining today in the foreign exchange market also after Friday's disappointing data on retail sales in the US for March. Retail sales in the US in March declined for the second month in a row, with a two-month dynamics was the worst for more than 2 years. The basic consumer price index also fell, which occurred for the first time since January 2010. Some economists fear that these data indicate a weakening of inflationary pressures, which may somewhat weaken the Fed's intentions with regard to interest rates. Earlier last week, the US dollar fell after comments by US President Donald Trump in an interview with the Wall Street Journal that the US currency is becoming "too strong."
Today, the economic calendar is empty, and the Christian world celebrates Easter. From the nearest news on the Eurozone, you should pay attention to the data on the trade balance for February and consumer price indices for March, which will be published on Wednesday at 12:00 and 13:00 (GMT + 3). Later on Friday (11:00 GMT + 3) April indexes of supply managers (PMI) will be published. Economists predict that the data will show some slowdown in activity in the manufacturing sector and services sector of the Eurozone. If the weakening of the indices is confirmed, it will have a negative impact on the euro.
The EUR / USD remains under pressure, while it is below the short-term resistance levels 1.0635, 1.0665 (50-period and 200-period moving average on the 4-hour chart). However, with a further decline near the support level of 1.0580, a rebound is possible. Through this level, the bottom line of the ascending channel passes on the daily chart and the lower line of the converging triangle, the upper boundary of which passes near the resistance level 1.0795 (200-period moving average on the daily chart).
Support levels: 1.0580, 1.0530, 1.0500, 1.0485
Levels of resistance: 1.0635, 1.0665, 1.0690, 1.0735, 1.0795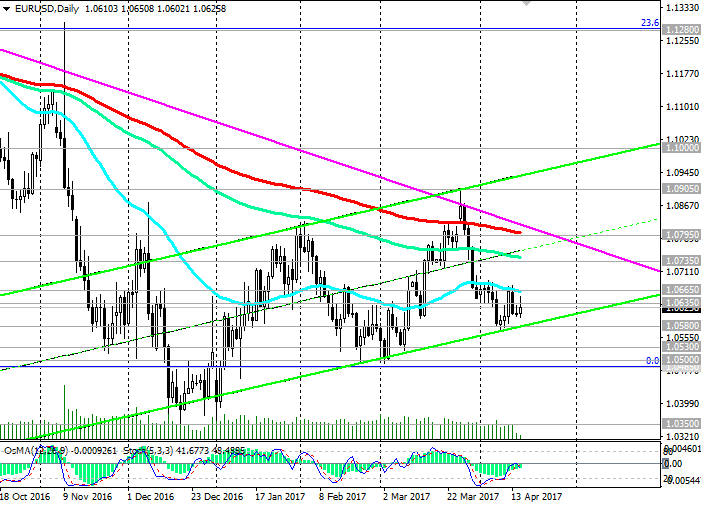 Trading Scenarios
Sell ​​Stop 1.0595. Stop-Loss. Objectives 1.0580, 1.0530, 1.0500, 1.0485
Buy Stop 1.0645. Stop-Loss 1.0595. Objectives 1.0665, 1.0690, 1.0735, 1.0795